Pai is a small city about three hours north of Chiang Mai. We read and heard many great things about Pai, so we didn't want to miss out!  Unfortunately, the road to Pai is not for the faint of heart.  The 135 kilometer road had 762 curves in it! The driver we had seemed to think he was driving a Ferrari not a minibus filled with ten people. Drew and I were the last ones to get picked up, therefore sat in the way back where we could really appreciate just how windy the road was (ick!). We both departed the minibus feeling pretty shaken, incredibly sweaty and quite nauseous, BUT neither of us puked, so that is one small victory we can celebrate!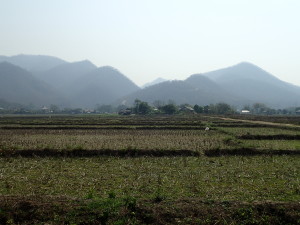 A cold drink, some food, and the tranquility of Pai soon soothed our trembling hands and we were able to enjoy ourselves.  We decided to stray from the "main attractions" of Pai and instead hide away at a local fish farm. Beung Pai Farm is surrounded by rice fields, mountains, and the buzzing of nature.  Our hut walked directly out onto a dock over the pond.
The pond was full of HUGE, well-fed fish.  The reason we chose this resort was because of the fishing option.  We were not disappointed : ) When fishing we were encouraged to use "bait balls". It was basically a large egg sized ball of mush packed around a hook.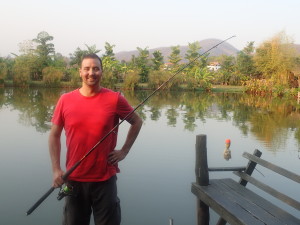 Drew caught the first fish. It was a giant sucker fish of some sort! I had a hard time helping with netting it because it was so big!
I caught the next one, but this guy was a big ole catfish-looking thing! And I really didn't "catch" it because I could only reel it in part of the way….that thing was big and strong!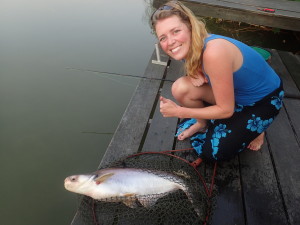 The rest of the time was spent blogging by the pond, watching the fish feed on top of the water, and enjoying our first cool nights in a while. It was 95 degrees during the day, but at night it got down into the lower 60s. It was so nice to be able to snuggle up under blankets for a change!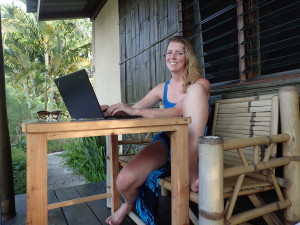 The ride back was as terrible as we expected, but luckily we sat in the front and our driver went a little easier around the curves. We are back in Chiang Mai now before we head off to the next country. Thailand is very touristy, therefore really easy to navigate, safe, and comfortable. So many people spoke English, most signs were in English, internet access was everywhere, western toilets were the norm, and transportation was fast/efficient. But, we experienced a lot of new things as well: awesome food, haggling, tuk-tuks, "Thai Tummy", beautiful islands, temples, and the say-what-they think, but kind Thai people.  Thailand gets a thumbs up from us!!