Koh Yao Noi was recommend to us by the resort owner in Koh Jum, Maat. We've been doing our best to avoid the areas that are overrun with tourists and he assured us that this island would accommodate this request, while kicking up the action level just a bit. In order to get there we had to take a longtail boat out to meet the ferry, ferry to Krabi, taxi from one Krabi pier to the other, take a longtail ride across the water to Koh Yao Noi (a beautiful ride with islands everywhere!), and then taxi again to our lodging, Pyramid Bungalows. This all may seem a bit hectic, but really it was absolutely smooth and easy!
Koh Yao Noi had many more options for food, lodging, and beaches. There is one main, paved road that runs around the perimeter of the island and you can easily get a taxi to take you wherever you need. We appreciated having a little more mobility and a slightly different change of pace.
Our bungalow was as simple as you can get, but we weren't complaining at all. Drew and I have found A/C and hot showers to be completely unnecessary during our stay so far. We get by just fine as long as there is a mosquito net, a fan, and windows to let in the cool, ocean breeze. Once at our bungalow we marched across the road to check out our view. BEAUTIFUL! This island has one of the best views of the southern Thai islands.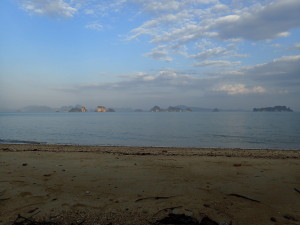 The sunset on the other side of the island, but we were able to enjoy the sunrises for the next few days!
We stayed at these bungalows for a few nights and spent these days getting to know the island, walking the beaches, trying out different foods, reading on the beach and soaking in paradise.
Speaking of paradise….Drew and I decided to do a serious upgrade in honor of our Anniversary on February 22nd. For three nights we stayed at the secluded Paradise Resort at the north end of the island. After a bumpy, 45 minute ride through rice paddies, and jungle we arrived at "Paradise". Our room was spectacular with a super comfortable bed (Thailand is not known for them), a lovely outdoor seating area, and best of all an outdoor shower!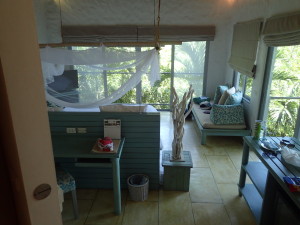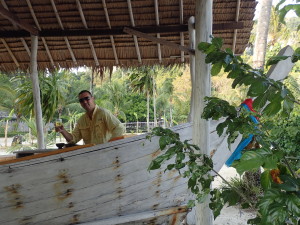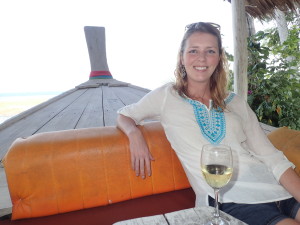 80% of our time was luxuriously spent on beach beds. The view was awesome, the water was as warm as a bath, and the food was delicious!
Things got a little crazy once we figured out happy hour ended at 6:00. Awesome resort, but definitely not the prices we were used to paying elsewhere in Thailand.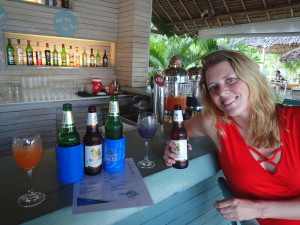 The tide on Koh Yao Noi was like Jekyll and Hyde. High tide offered gorgeous stripes of sand and calm blue/green water. Whereas low tide showed a barren wasteland of rocks. It was a crazy phenomenon that Drew and I have both witnessed before, but not to this extreme! High and low tide sometimes had 800 meter differences.
Here is the beach at high tide: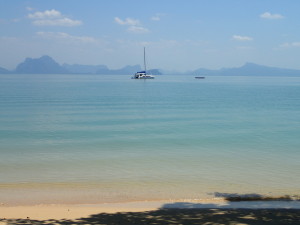 And here it is at low tide (the man behind the guitar is Tiger the musical entertainment for the night):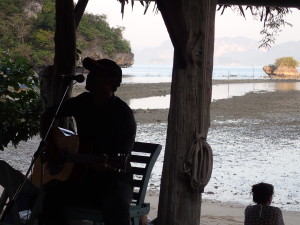 After reluctantly checking out at Paradise our taxi driver informed us that he has a bungalow we could rent with wifi in the room….we were sold! We needed to make some arrangements for our upcoming travel, call family, and just connect with the online world for a bit. The bungalow was inconveniently located, had dinosaur sheets, and many lizard friends, but as promised the internet was super fast.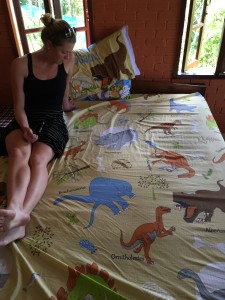 Drew's birthday landed on what would have been our third night at the bungalow, but unfortunately, I got sick and NEEDED air conditioning to help fight the clammy sweats induced by my bowels. We moved to a resort that offered A/C and a better location, so Drew could go out and enjoy his bday!! HAPPY 35th BIRTHDAY, DREW!!!!!! Sorry for being sick : ( Luckily, our new location made it simple for him to walk down the beach to get a birthday massage!
In all we spent a little over a week in Koh Yao Noi. It was mostly fantastic and I would recommend this island to anyone!! Now we are headed to the Phuket area to give Drew a little belated birthday gift of Scuba Diving. Yeah!