Christchurch
Christchurch is the third most populated city in New Zealand.  We flew here to begin our journey, but we mostly thought of Christchurch as a place to rest our heads and cure our jetlag. Bob and Sue arrived a day later than we did and greatly appreciated the spacious Hagley Park after 20+ hours in a plane.  The park had stunning oak tree lined paths and so many varieties of trees/plants/flowers for us to admire.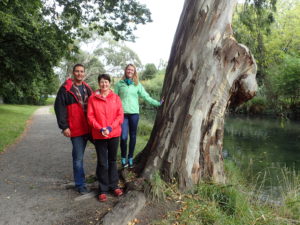 The city of Christchurch was hit by a huge earthquake in 2011 and unfortunately, it is still overwhelmed by reconstruction efforts.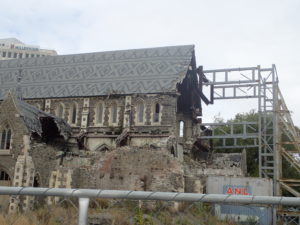 We took the trolley as far as it would take us, so we could see some of the reconstruction efforts and explore the newly redone Art Museum.
After a couple of days relaxing we began the main part of our trip. The first day we decided to hit it hard and start our 3.5 hour journey to Hokitika (a coast to coast journey). To say the drive was awesome would be an understatement….we stopped so many times that 3.5 hours turned into 6 hours!
Our first official stop was Castle Hill. This was a formation of hundreds of boulders that emitted a power and profoundness that livened our spirits. It was truly a remarkable stop and we HIGHLY RECOMMEND setting aside some serious time to soak in the magic of this place.
On the road again….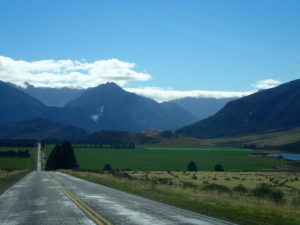 We stopped again for lunch and a short, steep hike up to The Devil's Punch Bowl.
Hokitika was our final destination and we made it just in time for sunset on the enormous, drift wood strewn beach.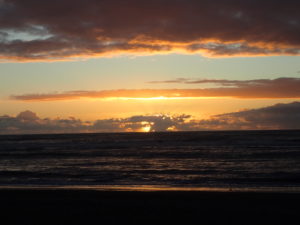 Our house was only a block from the beach, so we spent our time drifting around the beach the next day. Bob & Sue had a great time collecting unique rocks and listening to the crashing waves. Then, we of course went back again for sunset.
A short drive brought us to the Hokitika Gorge. After an easy 10 minute walk through a tropical jungle we arrived at the gorge.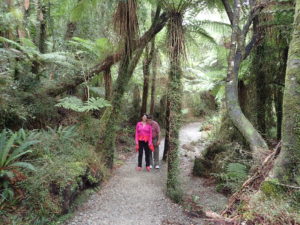 And over a swing bridge. Bob is supposedly afraid of heights, but he did great!
The gorge was filled with this odd milky, blue water. It has this unique color because it is glacial run off and picks up rock dust as it flows into the river. We had a lot of fun using the beautiful setting for our numerous photo ops!
The next day we headed to the Franz Josef Glacier. The day was cloudy with rain on & off, but we didn't mind because the weather added to the mystic of the ominous mountains on our hike to the glacier.
In my opinion the 45 minute hike up the river basin to the glacier was even better than viewing the glacier itself! Everywhere you looked there were waterfalls flowing in as well as incredible mountain views.
Okay…the glacier was pretty cool too!
As apparently is common around the glacier, it rained pretty steadily the whole walk back to the car.
After our hike it proceeded to rain an insane amount!! For hours and hours into the evening it poured. Luckily, we were nice and cozy in our farm cottage just outside of Franz Josef.  We had timed the hike perfectly! Tomorrow we are headed to Lake Hawea and our research tells us this is going to be another spectacular drive : )