Drive to Christchurch, Train ride, Kaikoura
After dropping off Mama and Papa D we were teed up for a 4.5 hour drive to Geraldine. As seems typical for driving in New Zealand the 4.5 hour drive turned into a 7 hour drive. It's just so difficult when the scenery is so BEAUTIFUL. Honestly, you could look every direction and there would be some awe inspiring vista at each turn. Check it out….
Mount Cook was stunning and a great place to stop for a little lake-side nap.
We also stopped to watch a few sassy, male red deer who were butting heads/antlers.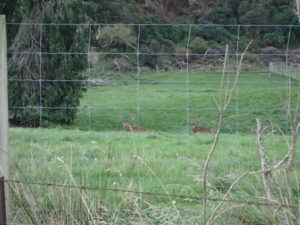 The next scenic adventure was our train ride from Christchurch to Picton. This was a comfortable, convenient ride and it was nice because Drew could fully enjoy the scenery! (Not to mention that we couldn't stop the train every time we wanted to get out to soak in the scenery, so we stayed on a tight schedule).
We did have a scheduled stop in Kaikoura. This is a small beach town about halfway to Picton.
Drew and I found out that Kaikoura draws people in with their whale and dolphin watching tours (whalfin tours as I like to call them).  We hopped on a speed boat on a sun shiney day and were greeted by four whale sightings!
The Sperm Whales were cool to see but the Dusky Dolphins and Common Dolphins stole the show!!! There were some where around 100 dolphins in the pod and they were definitely having fun.  They were jumping, flipping, spinning, flopping their tails, and all sorts of other crazy antics. Some were just having fun while others were using these tricks as tactile fishing maneuvers.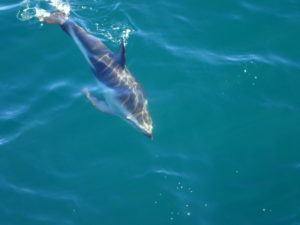 We said goodbye to the whalfins, stayed the night in Kaikoura, then jumped back on the train to finish our time on the South Island. IT WAS FANTASTIC and we can't wait for people to ask us what to do when visiting there. : ) Or invite us to vacation with them….we'd do it in a heartbeat!!