From the South Island we took the InterIslander Ferry to Wellington. This ferry was MASSIVE and I'd be more apt to call it a cruise ship due to the fact that it had numerous restaurants and two movie theaters. On the 3.5 hour ride the views were lovely as usual…..are you sick of me saying how pretty it is yet?
Wellington, as with most of the towns on the North Island, was basically a blur.  We didn't stay here long and we didn't do much but eat, drive (this part of NZ is pretty, but is nothing compared to the south island for views), and sleep. So, I will skip to the more exciting adventures.
Haku Falls and Dam is one of New Zealand's most photographed spots.  It was very nice, but really we weren't THAT impressed. It is a very accessible attraction and it's free, so we are guessing that is maybe the reason. Once again…beautiful, but the amount of tourists kind of turned us off.
The walk up to the dam was much quieter which allowed us to enjoy the beauty more.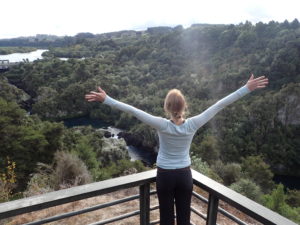 The next day we checked out the Wai-O-Tapo hot pools.  This interesting place is covered in steamy geysers, bubbling water, 100 degree celsius pools, and a rotten egg stench you won't soon forget! Seriously. Sulfur is stinky stuff.  Anywho, our little trek left us warm, enlightened, and happy we don't live anywhere near the central North Island area ; )
The minerals in this area create pretty awesomely colored ponds though….
Last, but not least, we visited HOBBITON! For all you Lord of the Rings and Hobbit lovers this place is a dream come true. Drew and I aren't like complete nerds (aka we didn't wear costumes), but we had a fantastic time geeking out in the Shire.  It definitely helped that the film set is located on the most spectacular 1,250 acre farm and that the day was mostly sunny.  Check it out!
Hobbit homes : )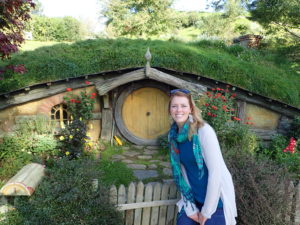 Bilbo Baggins house…
We fit!
Had to stop at the Green Dragon Inn for a quick beer too. This is a seriously awesome place! Drew wants to fashion a bar in the U.S. like this and I just want to have a study/library in my house in this style.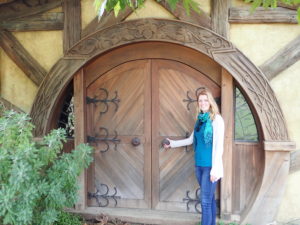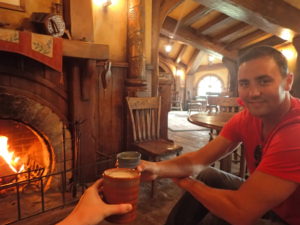 Hobbiton was definitely my favorite part of our quick journey through the North Island!