Oh Bali… You have many faces with all sorts of good, bad, and ugly. Depending on the location and time a single place could be a mix of all three.
One of the main reasons for our travels to Bali was to meet up with our good friends Amber and Reid Hanson. Autumn and I arrived early for our meet up and decided to spend a couple of days on the island of Nusa Lembongan which lies just off of the east coast of Bali. The island itself is fairly small, but was said to have great scuba diving and some very nice sunsets. We found a nice little guesthouse a few blocks off of the beach that suited our needs quite nicely. Our days consisted of reading, swimming, scuba diving, and just relaxing. Since we misplaced/lost our underwater camera I don't have any scuba diving shots to share with you, but I saw plenty of fish as well as a large Manta Ray. That is the first Manta that I have seen while diving and it didn't disappoint. It is amazing how they just glide through the water with little to no effort even at probably 11 feet across. They are very magical creatures.
After our little hideout on Nusa Lembongan, we took the ferry back to Bali. I would highly recommend the ferry company Scoot. They were incredibly helpful, reasonably priced, had fast ferries, and best of all, dropped us off at our hotel in Lembongan as well as our Airbnb in Ubud after the return ride. It made transitioning SO much easier and saved us the cost of a taxi ride.
Once the Hanson's arrived it was adventure time. We did a number of things, but some of the highlights are below. Let's start with the Elephant Cave Temple and the Monkey Forest Temple. These temples were both highly rated to do's in the Ubud area. The Elephant Temple was a totally different style temple than what we had seen in Thailand, so it was interesting to compare. As opposed to the Thai temples which had one large building as the focal point, the Elephant Temple was more open with smaller areas for worship.
Oh, and the other difference is that everyone had to wear sarongs here. I think Reid and I pulled them off well. 🙂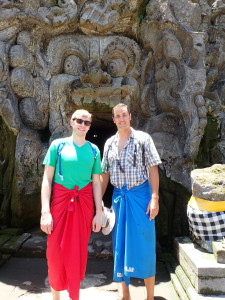 After the Elephant Temple we stopped for the Luwak Coffee tour which was next to the temple. For those of you who are unaware, Luwak coffee is quite unique since the coffee beans are first eaten and pooped out by Asian palm civets (kind of a mix between a raccoon and a cat). The civets sniff out the best coffee berries to eat and then their digestive track removes the first layer of the coffee bean. This process makes Luwak the most expensive coffee in the world. Even the fact that it felt like 102 degrees outside couldn't stop us from giving it a try. They like to say that Italy did not introduce cappuccinos but that the Luwak "cat-poo-cinos" were the first!
The Sacred Monkey Forest Sanctuary was up next. Amber knew ahead of time that this was going to be the highlight of her trip. We were all impressed by the crazy, hairy beasts!  There were monkeys everywhere including some adorable baby monkeys. Awwwwww!
There was some pretty neat stone work as well.
The walk back up from the Holy Spring in the ravine.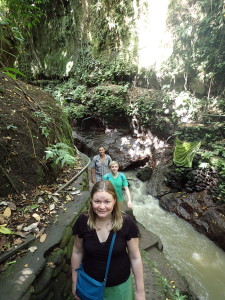 All of that hanging with the monkeys made us hungry so we grabbed a bite to eat at Bebek Bengil overlooking some beautiful rice paddies.
We went exploring to some of the beaches on the east side of the island, namely Bloo Lagoon and White Sand Beach. While we had high hopes, they were quickly tossed aside like the massive amounts of garbage that covered the beach and was floating in the water. Totally disgusting as well as very sad. I did get some good underwater shots with our new camera (thanks Amber and Reid for delivering!).
Once relocated to the Seminyak area we spent some time on a huge and beautiful Seminyak beach.
Oh and the coolest kite ever!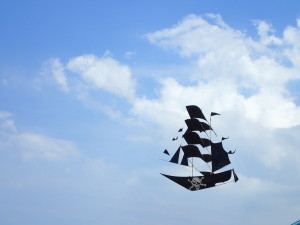 Our time with Amber and Reid went much too quickly, and we took far too few pictures.  The Hansons might have a few more we can steal, but their pictures were pointing at our food most of the time! We dined like foodie kings, partied at THE club in Seminyak, haggled hard at the local market, enjoyed our open-air concept villa with a pool, drank a few sassy drinks & tons of Bintang, found the perfect Mexican restaurant, and did a ton of sweating. Thanks for saving us from our Southeast Asia slump, Amber & Reid!!! We had a BLAST 🙂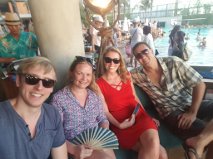 The next two days Drew and I moved to the Jimbaran beach area.  After dropping our bags we went directly to the beach to enjoy their famous seaside, seafood restaurants.  There were 6 or 7 restaurants along the beach and all of them basically have the same menu: bbq seafood. We picked a restaurant solely based on whether there was a table with SHADE!! The food was delicious, cheap, and had an awesome view of the quiet Jimbaran beach.  We came back to this same place the next day for the bbq clams…so tasty!
Sunset was approaching, so we headed back towards the beach. But, this time the beach was packed! They had tons of tables set up, tour busses in the parking lots, and people were everywhere.  We managed to get a table 20 feet from the water, so the hordes of people didn't block the view too much.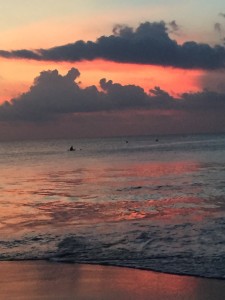 Little did we all know that the surf was really rough and pretty soon the waves were gushing up to the table, then thankfully heading back out.  We didn't mind, but the people next to us were a little frazzled. I found out the next day just how strong the surf is when I got demolished by a large wave.  I was totally fine, but in my attempt to get the hell off the ocean floor I lost my hat and sunglasses. Shit! Thank goodness we were leaving for New Zealand tomorrow.
On that note….Drew and I couldn't be happier to be leaving Southeast Asia.  We are so thankful for the sweet, kind, and incredibly smiley Balinese people, but we are so sick of sweating!  It's been almost two full months of 90+ temps and high humidity.  We are off to New Zealand's South Island for a fun (and cooler) adventure with Bob and Sue Dale!!  Let the Dale fun begin : )