Day 1
Litchfield National Park is a much smaller park and definitely more accessible than Kakadu with most of the roads/trails open for 2WD vehicles. Due to this fact we had heard that it could be considered the more beautiful of the two parks. I would argue that they are different and offer different things which in my eyes makes them equal. That said, the waterfalls and vistas that were accessible during the wet season were quite impressive. There was a lot we wanted to see, so we planned to spend two days exploring everything slowly versus rushing through. It would turn out to be a wise idea.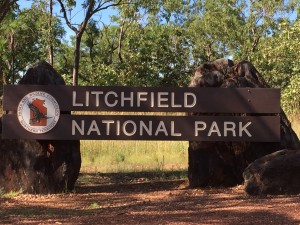 We arrived from Kakadu in the late afternoon on Saturday and stayed at a mediocre (at best) motel in the town of Bachelor about 5ish miles from the park boundary. Nothing fancy, but a good kicking off point.
On the drive through Kakadu and into Litchfield we had seen lots of HUGE termite mounds of varying shapes. These were pretty cool because they loomed large throughout the savannah woodlands. Inside Litchfield there was a specific termite mound viewing area we thought would be cool for some pictures. We were kind of right. The half a dozen mounds were interesting enough, but we saw everything in about 5 minutes. The unique thing about these were that they were built in a north-south direction which always kept one side of the mound shaded and thus climate controlled. Pretty neat nature at work.
From there we headed to the Buley Rockhole for some swimming. There were lots of cars in the parking lot, but we really didn't know what to expect. Turns out it was a long series of waterfalls which had carved out deep washouts below almost every little falls. The holes themselves were anywhere from 2 ft to 15 ft deep and nice and cool. We had a blast lounging and soaking up the sun and water.
After that we moved a mile down the road to Florence Falls to hang out under a BIG waterfall. There were lots of locals swimming and enjoying along with a few tourists. Some of locals were jumping off the top of the falls which is about 60-70 ft! Crazy considering that they had to climb up in between the two waterfalls over wet, steep rocks.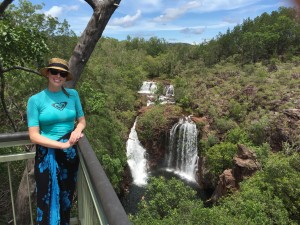 After an enjoyable time hanging in the water we headed for Wangi Falls for a bite of lunch and to soak in the sights. Due to the wet season, Wangi Falls was not open for swimming, but they made an impressive sight nonetheless!
Close to both Florence and Wangi Falls there were lots of very large bats roosting in trees. Totally cool and yet a little eerie.
We wrapped up the first day by staying at a quaint little resort with small cabins and lots of Wallabies hanging around. We were treated to wallaby watching while a huge storm moved in with lots of lightning courtesy of the Lighting Man.
Day 2
Our second day in Litchfield was reserved for the remaining lookouts/tourist spots that we missed on day 1. First stop Tolmer Falls. Tolmer Falls lookout is an amazing view from above a waterfall that was the tallest we saw the whole trip. I'm not sure the pictures will do it justice, but here goes:
After a quick stop for lunch we headed to the upper Cascade Falls which was a 3.6km round trip to the top of the falls. Not only was the temperature in the upper 90's, but the humidity made it feel like 108 degrees. Quite hot on the walk up, but getting in the falls at the top was worth it. Besides, the walk back down was easier and was much cooler thanks to a rainstorm that came through. 🙂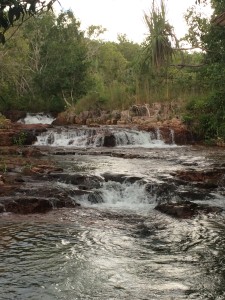 We had planned on driving north through the park and going a different way back to Darwin, but we soon learned about what the wet season does to roads. It didn't take us very long before we came to a spot where the river was 1-2ft deep and flowing right over top of the dirt road. While it was an easy decision to turn around, neither Autumn nor me looked forward to the extra 100 km's we had to backtrack to get to Darwin.
We made it back to Darwin in one piece, checked back into our hotel, and then enjoyed one and a half free days before we headed for Bali. Much needed rest as well as good air conditioning!