As most of you know, Autumn and I are big fans of natural sights and wildlife. Instead of hopping a plane from Thailand to Singapore or the like, we decided that we wanted to head for some more natural places. Enter Kakadu. Kakadu is a very large (7,642 square miles) jointly managed National Park as well as a world heritage site. What's really neat is that it falls within Aboriginal owned territory, but has been leased back to the government to allow for tourism and joint management. It was the first park to be "joint managed" which means that all management done within the park is done in cooperation with the local people and their laws and traditions. That philosophy seems to make perfect sense considering the Aboriginal people are the longest living people with confirmed history and culture going back 50,000 – 60,000 years. They say they have lived on this land since creation, which if you ask me, gives them a pretty good idea of how to manage things.
We arrived at the end of the wet season, which means a little more limited access to things, but hardly any other tourists around. It is incredibly quiet, and full of color and life. On the drive over from Darwin we were treated to 50+ wallabies grazing here or there on the sides of the roads. A few were curious enough of our bright yellow car to stick around for a picture, but most of them bounded back into the brush before we could snap a picture. In addition to the wallabies, we also saw a pair of Emus. They were right on the edge of the brush and then went bobbing and weaving back into the grass. Add in plenty of birds including cockatoos, kites, doves, and lots of others I can't name and you have an abundance of wildlife to keep us amazed during the drive over.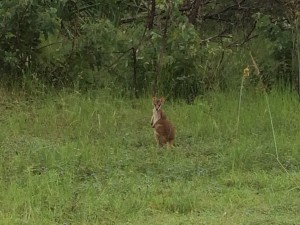 One of the things that we try to do when we visit places like this is to get involved in guided tours if possible. Not like huge tour groups, but small local tours where there is real knowledge to be gleamed about where we are, what we are seeing, and what it means. To that end, we stopped by the Bowali Visitors Center on our way into the park and found a couple of Ranger led activities that we then planned our days around.
The first was a crocodile discussion held in the aptly named (and shaped) Crocodile Hotel in the small town of Jabiru. We spent about 1.5 hours learning about Crocodiles (both fresh and saltwater) and asking all sorts of questions about them. Did you know that Crocodiles have teeth within teeth? It's crazy, if a Crocodile loses a tooth, there is another one right behind it that will start showing within a couple of days. How crazy is that? We learned a ton of great information, and that is just the tip of the iceberg of what there is to know about these amazing animals.
The second Ranger activity we participated in was the Nourlangie rock art discussions. First of all, the Nourlangie rock area is BEAUTIFUL! There is an amazing escarpment which stands tall in the background and has plenty of hidden areas and caves. It is a truly powerful place where you can feel the incredible nature that surrounds you. The talks themselves were very informative as well. They covered everything from Aboriginal law, land and family, to ancient artifacts and the living heritage that is the Aboriginal culture. The artwork and the language form parts of the greater tapestry of the Aboriginal people. As an aside, the Ranger that we had for both talks was a gentleman by the name of Christian and he was an excellent guide who is incredibly passionate about the subjects of his discussions. Be very glad if you get him.
Afterwards we moved south towards Cooinda and the Yellow River.  Drew and I got a Buy One Get One 75% off cruise deal, so we could do a sunset river cruise as well as a sunrise river cruise.  We boarded the extra large pontoon at 4:30pm in hopes of catching a croc heading out for his evening dinner. Unfortunately, we didn't spot one : (
But, we did see tons of blue, purple, & white flowering water lilies. Not to mention stunning views of the immense wetland.
A few Jabiru or Black Necked Storks.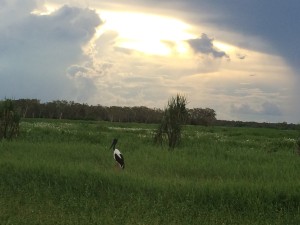 Numerous Darter birds….when drying out their feathers they summon the energy of Batman.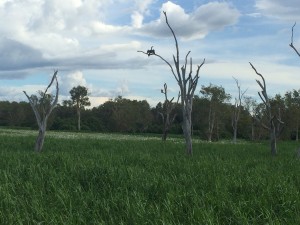 We also saw a snake hanging out in a tree, many Magpie Geese, Forest Kingfishers, Sea Eagles, and a few Cockatoos.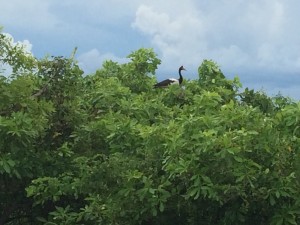 There were also a few Jesus bird sightings! The bird's real name is Comb-Crested Jacana. It has extremely long toes that help it to walk on lily pads which in turn makes it seem like it is walking on water. Get it? Jesus bird? Walks on water!! HA. Anyways…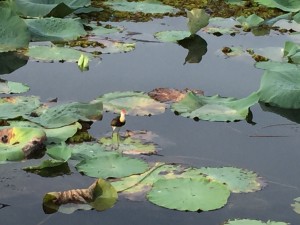 The guide's commentary was a little lack-luster and his creature spotting abilities were a bit slow, but in all we were happy to be going again in the morning. With views like this who could complain?!?!
The morning was a basic rinse and repeat, BUT with a fun surprise at the end. A CROCODILE!!! Now crocodiles can get up to 20-25 feet long. This guy, or likely lady, was about 8 or 9 feet long. Not a huge lunker by any means, but definitely impressive to both Drew and I!
After a late breakfast we packed up and prepared for a 3.5 hour drive to Litchfield. We were fully prepared to spend the next few hours scouting for wildlife!