We arrived in Darwin, the biggest town in "the top end" which is what the locals call the northern part of the Northern Territories. Darwin is a nice small city with a good sized business district as well as shopping, hotels, and bars/restaurants. They have recently done a huge redevelopment on the South East corner of the city. It is now full of restaurants and businesses as well as a wave pool which no fewer than 4 people said we should go use. Since we were exhausted, laying out in the sun floating in a wave pool was way way down the list of priorities. Maybe another time.
After spending most of the first day resting up, we caught a beautiful sunset and some dinner at the Ski Club. The next day was when we decided to see a little more of Darwin and do some walking around the East Point Nature Reserve where we had heard there are wallabies. It was a beautiful walk along the coast and then back across some nice pastures where there were plenty of horses and, much to our delight, WALLABIES!!! Unfortunately for you all, that evening we forgot our camera sitting on a wall after we were done watching the sunset and alas it was gone when we returned to find it. Bummer, but not a major bummer as we only lost one day of pictures. A mere inconvenience.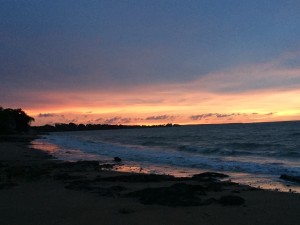 Tomorrow is when we pick up the car and head from Kakadu National Park (amongst others). After taking public or taxi transportation for a month plus, I am ready to get behind a steering wheel again!