Phuket was never really on our list of islands to visit in Thailand, but the necessity of an airport pushed us in that direction. We were going to avoid that area because it is very popular, therefore very touristy. After five days in the Phuket area we figured out why it was so popular: THE BEACHES!!! Wow, Wow, Wow. Our first stop was Karon Beach: The sand was powdery, the water was incredibly clear, the ocean floor was rock-free, and the beaches seemed to go on forever!! There were people everywhere, but still plenty of room to find a spot for yourself.
Pretty sunsets too.
It's easy to forget about adventuring out when you have so much beauty at your fingertips. Not to mention that it was Drew's turn to get sick : ( So while he laid in bed I went to the beach. Luckily for him we figured out that A/C was completely necessary whenever we weren't directly on the beach, so he could rest well without sweating to death.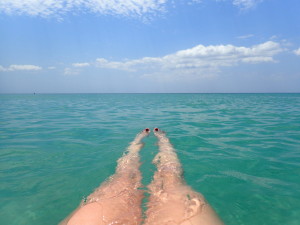 A few more things to note about Karon. First, it is supposedly the "family" beach area versus Patong which is the "party" beach. While it is true that we did see many more families around, I can't imagine why anyone would want to bring a child (or multiple children) to this place. The odds of a kid getting run over in this city are about 60%, with the other 40% being sheer luck. Like other places we have been the traffic here is ridiculous. Nobody abides by the lane lines. Motor bikes zip around cars like traffic cones. The cars don't care if the motor bikes are there, they will move over whenever they want without concern. Let's just say that even crossing the road was an adventure and riding in a tuk tuk (cab) was downright crazy.
The second thing to note about Karon (but I suspect it is the same in all of Phuket) is the daredevil Parasailing people. I'm not talking about the tourists that went parasailing; I'm talking about the INSANE operators of said parasail. The video will do it justice, but these guys hang on to the parasail ropes and pull themselves up to stand on the ropes and steer above the tourist who is strapped in. Mind you that they are 200 – 250 feet in the air and aren't harnessed into anything. They are just standing and holding onto the parachute lines. If this were America they would have been shut down after the first 30 minutes. CRAZY.
The last thing to note is a "new" massage technique that we witnessed. That is what it was called, but it really was more of a foot/leg exfoliation. Anywho, most massage places in Karon had tanks of teeny-tiny fish that people dangled their feet/lower legs into. These fish would then eat the dead skin from their feet, leaving them soft and smooth. Audi and I have yet to try this, but it is on the list.
After three days in Karon we moved farther north to NaiYang which is close to the airport and in a national park. This area of Phuket promised fewer people and a slower pace than southern Phuket. The description was right on the mark, yet still offered the most amazing beach! The weather was glorious so we were able to adventure up and down the beach to see which swimming area was the best. Rough life….
Walk, swim, walk, swim, eat mangoes, walk, swim, watch the sunset, eat dinner…repeat. Absolutely, delightful!!!!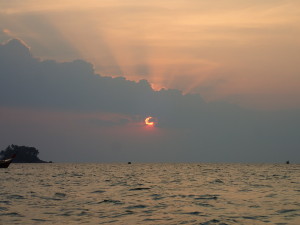 Drew and I won't be having anymore beach adventures again until we get to Bali (get ready Amber & Reid!). We couldn't be happier to have had all this time to relax and enjoy the wonders of the ocean : ) We're off to Chiang Mai next!