Chiang Mai is a small city PACKED with guesthouses, massage places, restaurants, outdoor markets, travelers, and temples. Our guesthouse was located inside the Old Walled City, so we were able to walk to just about everything we might need or want to do. Upon our arrival we decided to wander the city awhile to get a general feel for it. It was a short 1.5 hour journey due to the fact that it was 95 degrees, but we were able to enjoy a delicious mango/strawberry smoothie and a peanut butter & Nutella pancake for the street vendors. Many of the street vendors had their station connected directly on the side of their motorbike…we didn't see any of them driving around like that, but I'm sure it would be quite the spectacle!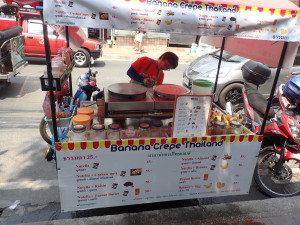 As I mentioned before Chiang Mai has a lot of temples. The pagodas are situated throughout the city and the first thing you see is usually a large golden peak. The temples are similar in that they are all beautiful, they have many ornate decorations, their names are hard to remember and they are covered in gold, elephants, dragons & Buddhas.
But, my favorite one was old and crusty: Wat Chedi Luang. This temple has obviously been inactive for quite some time, but it was fun to imagine how magnificent it was 100s of years ago.
The largest and most popular temple is Wat Phra That Doi Suthep. It is situated on top of a hill overlooking Chiang Mai. The journey itself consisted of a 30 minute taxi ride ("taxi" being the back of a pickup with bench seats and a cover) up the steep hill and then walk up 100 or so steps to reach it. There were numerous pagodas filled with statues or shrines, mini prayer rooms, beautiful flowering bushes/trees, and one giant pagoda made of gold. It was impressive to say the least!
The temples themselves were powerful symbols of the Buddhist religion. Unfortunately, we did not get the same feeling when viewing the Monks. More often than not we saw monks or novices (monks in training) doing very "unmonk-like" things. One monk was loudly talking on his cell phone inside the temple. Another one, while in the middle of blessing a woman, pulled out his wallet to give his lunch order to another man. At one of the last temples we visited Drew and I were happy to finally see and hear a monk praying in the temple. Only to realize that his keys and cell phone were laying on the altar not 6 inches from him. Maybe our perception of what a monk does is incorrect, but needless to say we weren't expecting to see these things. I did a little research and it seems like the Thai monks are having a difficult time finding a balance between tradition and the temptations of the 21st century. Seems accurate to us!
Drew and I went to three outdoor markets while in Chiang Mai: the Night Bazaar, the Sunday Walking Market, and a night food market that may or may not have a specific name. All of the markets are similar in that they are packed with people, filled with color & energy, the air emits delicious smells from the food stands, and things are cheap, cheap, cheap! Fortunately, we have no real need for more crap, so we mostly walked away from these adventures with full bellies and massaged feet. : )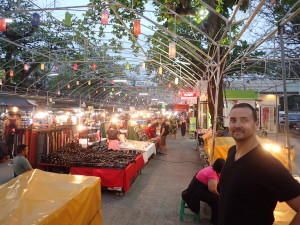 Here are some of the different street foods we tried:
*Shrimp & pork dumplings- the shrimp were 10x better, but both were good
*Pork Satays with peanut sauce- dipping anything in peanut sauce is a great idea
*Passion Fruit Pops- a delectable frozen treat that will pucker your taste buds
*Mangos & Sticky Rice – we always opt out of the sticky rice because that means more mangos!
*Banana Pancakes – basically a yummy crepe filled with bananas and covered in caramel, or peanut butter, or Nutella or a combo
*Seafood Fried Biscuits – so hot that you can't really taste them and so small that there wasn't really that much seafood in them…we will probably pass on them next time
*Cake donuts – they were sugared and still warm…what more could you ask for?
We are Chiang Mai for one more day, but will be using that time to visit ELEPHANTS just outside of the city. SO EXCITED : )