These last few days have been a beach bum's dream! After our first night in a hut near the bar we were moved to a nicer bungalow 8 steps from the beach. The other upgrades included a shower with water streaming out of a coconut, sassy knock-off Disney character towels, and a hammock outside our door. Between early morning stretching on the beach (Broke-back, not Autumn), and evening dinners at the beach restaurant we filled our days with adventures, swimming, snorkeling, reading and all-around enjoying.
On our second day here Drew decided to venture up the beach, over the rocks to a beach that was suggested to him by another guest. He understood the journey to be much shorter and easier than it actually was. Equipped with his iPod, sunglasses, hat and flip-flops he set off only to return 3.5 hours later a sweaty, thirsty mess. The beach was quite nice, but the water was just as rocky as the water outside of our bungalow. Since he didn't have money with him he could only swim as relief from the heat.
Due to the timing of his departure he got to see a great example of tidal changes…
After dinner we took a walk down the beach to enjoy the beautiful stars. Unfortunately, when we upgraded bungalows we did not upgrade beds. Thailand offers large beds, but they definitely lack in comfort!
Day three I decided to join Drew to explore the area down the beach (opposite of the way Drew went yesterday). We could see the beach, Long Beach, from where we were staying. It looked to be quite far away, but we had time, so we decided to go for it! We had to a do a little bit of maneuvering over rock mounds, but for the most part we were able to walk on the beach. On the way we saw a few fun beach restaurants and put them in the back of our minds for later.
Due to the fact that it was 95 degrees and not a cloud in the sky we had to stop at Magic Beach on our way for a quick swim and snorkel. The water was really clear and the ocean floor was very sandy, but there weren't many sea creatures to see. It was a beautiful beach without many people at all.
We packed up and moved on towards the point of Long Beach. Drew and I really got to understand why it got its name…..it is a seriously looooong beach! Our hike brought us past many resorts and people enjoying the clear/calm waters. I still wouldn't call the beach busy, but that's probably because it is so long. When we finally made it the "point" of the beach we decided to say we conquered Long Beach even though the beach wrapped around the point and kept going for who knows how long!
After swimming at numerous points on our way back down the beach (it was so hot we HAD to swim frequently) we stopped at a restaurant with an awesome view of Long Beach.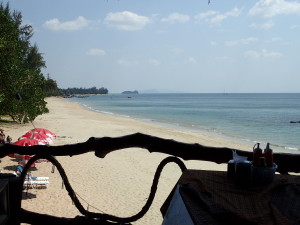 Drew and I left there prepared for a little rock maneuvering once again, only to find out that the tide had come in. Therefore, we weren't really just going over a few rocks. The next 45 minutes consisted of us full on rock climbing over these huge, wet, boulders. Let's just say we got a great workout in!!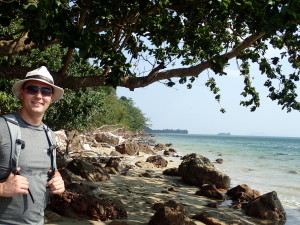 Day four we really needed to take it easy. We didn't want to push Drew's back with more crazy rock climbing and my ginger skin was demanding a break from the sun! Drew went to a beachside hut to get an authentic Thai massage. He said it was good, but not the best massage he's ever had. But, I bet it was the best massage he's ever gotten for $14 (we think the price was so high because it was at a resort)!!!!
We feel ridiculously fortunate to be able to sit back and enjoy our time here. There is no work being done, no to-do lists, and we don't have a clue what day of the week it is much less what time it is! We eat when we are hungry, sleep when we are tired, and fill our time as we please.
On that note here are some more sunset photos….. : )
Drew and I plan to stay at these bungalows for 1 or 2 more nights. Then, we will pack up and move on to the next island!