After the touristy activities of Ao Nang, we decided a change of scenery was in order. After doing a substantial amount of research last night we decided on going to the island of Koh Jum. Koh Jum is a pretty good sized island on the way to Ko Lanta. Our goal was to find a small bungalow on the beach to chill out for 4-5 days with no car traffic and as few people as we could reasonably expect to see. Mission accomplished.
Our morning started off with us meeting a small truck with benches in the truck bed and a cover over the top. We were passengers 6 and 7 of what would be 15 passengers and their luggage. Not a lot of space, but it did the job on the 6 mile ride to the ferry pier. When we arrived at the pier we jumped in line with the other 100 or so people that were headed to Ko Lanta. Those of us that were headed to Koh Jum were told to wait over to the side while everyone else boarded. As it turns out, our luggage was stored in a different spot from everyone else's as we were due to get off before Ko Lanta. Autumn found a seat inside the lower deck of the boat and shut her eyes for a little nap while we were motoring. I, on the other hand, headed out to the back deck of the boat and found a great spot where I could sit on the edge, hang my feet over the side. I could rest my arms on the railing, soak in the sun, and take some pictures of our journey.
At around the 1 hour mark of our journey one of the boat ferry workers gathered those of us headed to Koh Jum and instructed us to grab our bags and make our way to the back deck. Instead of heading towards shore to dock at a pier, we were met by 5 long-tail boats out on the water and were told which boat to get into based on our resort. This definitely is a first for me; a mid-ocean transfer to a smaller boat to take us directly to our resort. Very cool!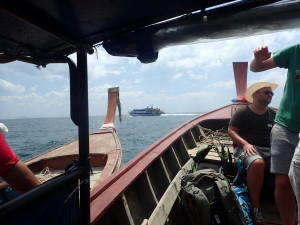 Our resort, The Last Fisher, is a quaint little resort with 10 small cabanas right on the beach; EXACTLY what we were looking for. Nothing fancy, a little hut 20 steps from the beach, running water, flushing western toilets, and a mosquito net around the bed. Perfect.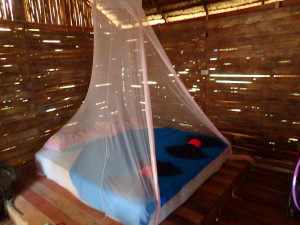 On the same beach there are 2 other resorts (one in either direction) that offer more luxurious rooms at a much higher price, but not many other differences. I'm pretty sure we win. Since this is a budget trip, we are definitely price conscious which is why the $20/night price for our hut suited us just fine! We are going to stay for 5 nights, do lots of thawing out from being in Minnesota, relax, snorkel, fish, and enjoy the peace and quiet.
After checking in to the room we quickly changed into our bathing suits and took a walk on the beach. The eventful day to this point, along with a hammock on the beach was the perfect combination for a nap!
As Autumn mentioned in a previous post, we are definitely big fans of sunsets. We were treated to a spectacular sunset from our beach chairs and then it was off to dinner (20 ft away) for some delicious Thai shrimp and Thai beef.
Day one is in the books and we couldn't be happier with our decision. On to day 2!!!