Ao Nang Day 1:
Let me start by saying that the southern part of Thailand really is a magical place. Drew and I went from Minnesota's snowy, cloudy, and cold weather to the 95 degree, insanely sunny, and gorgeous weather of Ao Nang Beach! It's easy to get a little dazed and confused when you have been traveling and even sometimes forget where you are. But, once we walked out of our hotel we were immediately reminded of our location by the blue ocean and towering islands poking us in the eye.
We decided to take advantage of the beach right outside our hotel for day one. Drew and I did this knowing that it wasn't even close to one of the top beaches in Thailand. Honestly, we were pretty damn impressed and more than happy to soak in the sun, walk the long beach, sit at a beachside restaurant, watch the many long-tail boats ferrying people to/from the beach, and best of all….people watch! Thailand's beaches draw many different tourists and locals. It's fun laying in the sand and trying to figure out each persons' story just by how they look, dress, speak, act, etc. It is usually pretty easy to rule out North Americans when the men are wearing speedos or the women are sunbathing topless!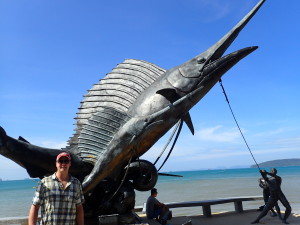 Sunsets have become a favorite of ours, so I apologize in advance for the number of sunset pictures that will turn up in our posts J But, there aren't many things that can beat sitting by the ocean, drink in hand, and watching the sky change to fifty different shades of awesome!
Food: Ao Nang is a little too touristy for the food to be uber authentic, but we did have some great Pad Thai (twice…I know…I know…think outside of the box, Autumn…well…shut it….I love Pad Thai!). We will be in Thailand just under 4 weeks, so we will have plenty of opportunities to try new dishes.
Day 1 was your typical lazy tourist day. Tomorrow we are going to be active tourists and visit a few of the surrounding islands. Yea!
Ao Nang Day 2:
Drew and I booked a tour to visit Hong Island and a few other smaller islands. We were driven to another beach with a bunch people waiting for their tours. Unfortunately, the first 45 minutes consisted of waiting for more people to arrive, angry Russians throwing fits, and disorganization. Once we boarded the boat, with the 18 others, things smoothed out!
Traveling by boat is one of our favorite forms of transportation. The islands of Thailand were a spectacle to see! The islands up close were very cool, but it was also fun to see the foggy islands layered in the background.
Our first stop on the tour was a small beach with a couple of groups of people. Drew and I swam away from the crowded beach towards a split rock wall to get some peace and quiet and some nice pictures.
Up next was Hong Lagoon. We entered through a narrow entrance that only allows passage during high tide. The walls of the cliffs surrounding the lagoon were covered with drippy stalactites. The water was only about waist deep, so we were able to get out and walk around. Beautiful!
Then, we boated around the other side of the island to Koh Hong Beach. This lovely place was where we had lunch and started our kayaking adventure. The beach was gorgeous, but packed, so we decided to get in a kayak and go!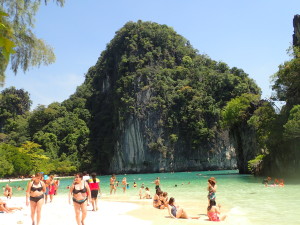 Drew and I decided that kayaking is really the way to see Thailand. The water is beautiful and the sea life is probably abundant, but who wants to have their head in the water when there is so much beauty rising out of the ocean! We paddled around the entire island and had the best hour of the day in that kayak. Seeing the rocky cliffs covered in vegetation and stalactites was definitely a highlight. Getting away from the crowds was just an added benefit!
The boat ride back was relaxing and we made it just in time for a quick shower before sunset. : )
Tomorrow we NEED to get away from tourist central, so we are headed to the quiet island of Koh Jum!!!