While booking our travels to Thailand, Autumn had the great suggestion to make a stop in Shanghai. This would allow us a break up in the trip, get some sleep, and see the city. As is standard with her, it was great advice. We landed in Shanghai in the evening on Feb 10th, taxied to the Sheraton and pretty much fell onto the bed and to sleep. With me not sleeping on the plane and Autumn only getting a few minutes here and there we were both exhausted. Fortunately for us we could fall asleep and wake up in the morning on Shanghai time. No real jet lag to speak of. I fear that when our travels take us back home things are not going to be so easy.
The morning of the 11th we woke up, enjoyed breakfast in the Club lounge and then caught a taxi to Yu Gardens to begin our exploring. We were aware that we were arriving two days after Chinese New Year and had heard Shanghai might be a lot quieter than normal due to this. The concierge confirmed this, however, he mentioned that Yu Gardens would be busy.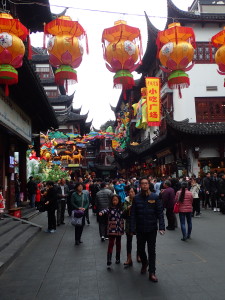 Yu Gardens itself was not what I was expecting. I guess I took the name too literally. To be clear it is not a garden or open area. That said, it is a wonderfully beautiful and busy mix of traditional Chinese buildings and open spaces with shops, tea houses, and restaurants. We had a great time taking pictures of the architecture and the different scenes that were displayed in honor of the New Year.
From Yu Gardens we walked to the Huangpu River and then north along the walkway to The Bund. I'm not exactly sure we actually spent any time in The Bund, but we really enjoyed the view along the river and all of the great people watching. Actually, Autumn and I became the star in a number of people's photos. Some people were discreet, others less so. One woman asked Autumn (in Mandarin) if she could take a picture with her. As we have learned a smile and a yes nod is universal. The lady got a nice picture with the Lady Autumn and we got a funny story out of it. A little bit further into our walk a 4ish year old boy was very brave and told us "Hello" in English. We responded "Hello" and he smiled broadly and ran to catch up to his parents. Very cute!
We couldn't figure out if it was foggy or smoggy….the sun came out later that day and to help us verify that the ominous haze was smog.  🙁 Unfortunate, but we would still go back.
Although our time was quite short, we loved the experience and feel like this is a primer for the next few months!