Bariloche is also known as "Little Switzerland" due to the fact that it has beautiful mountains, it is known for chocolate, and it has little cutesy shops all over. The town really is picturesque with the Andes hovering over the beautiful lake Nahuel Huapi. The lake was a block from our Airbnb and we took full advantage of the free, beautiful walks along it (even when it snowed). This was a great town to stay in because there were awesome hiking trails just a short bus ride away. The downfall was definitely the massive groups of teenagers stalking around in matching coats and chanting their school songs. Apparently almost every High School in Argentina sends their seniors on a class trip to Bariloche. They think it's super awesome to wear matching ski jackets, so they all rent one from the same company and wear the exact same, outdated jackets. Unusual sight to see and they were usually loud/obnoxious. If you have a thing for St Bernard dogs this is the place to be! They had 4-6 dogs/puppies for you to take your picture with (for a price obviously).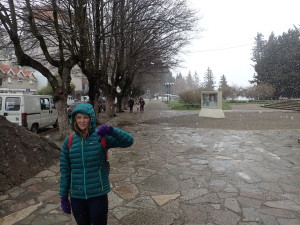 The highlight for Autumn was probably the AMAZING medialunas at a place called Mamushkas. They were so awesomely good. Argentinians aren't aiming for a hardy/healthy breakfast; they stick strictly to  sweets and breads. The pastries here are to die for!
Hiking, or "trekking" to South Americans, was definitely on the top of things we loved here. We hopped on the city bus for a quick 20 minute ride to the base of Llao Llao Mountain (only cost about $6 for both of us) and then started our 4 hour trek. The views were amazing (pictures below speak for themselves)!!! It was chilly, but sweaty all at the same time. Climbing mountains is hard work! ***WORTH IT ***
The next day we boarded the bus again for another gorgeous trek up Cerro Campanario. This was a very steep 45 minute climb up, but it was worth it for the outstanding views! We could see many clear blue lakes and the Andes all around. Drew, unfortunately, had some sort of allergy attack, so he wasn't as able to enjoy it due to many sneezes and leaking eyes. More pictures for proof of the awesomeness…. The climb down the mountain was almost as strenuous as going up!
In all Bariloche was awesome after the Spring weather arrived! We tried to leave for Mendoza on Friday, but all the buses were booked, so we had to stay in a hostel for a night and try again on Saturday. We're pretty sure that Drew was cursed by some old lady at the bus station (totally unsolicited. No seriously!) and the hostel royally sucked, but other than that we just went with the flow!
Up Next: Mendoza!
We just arrived and are waiting in our hostel for our beds to be ready. Luckily, the hostel let me shower (Autumn) when we got there. I was unfortunate enough to sit in a bus seat that someone may or may not have died in. It smelled so HORRIBLE!!! Cloth seats are not ideal for long bus rides. Wet wipes just can't make that much of a difference. I tried to sit elsewhere when I could, but had to deal with it once it was sleepy time. To help with the smell I stuffed orange peels under my nose and used my sleep mask to hold it in place. Yup. That. Bad. BUT WE ARE HERE!!!! WINE COUNTRY HERE WE COME!