WOW! AMAZING! Those are the two words that come to mind right away when speaking or writing about Perito Moreno. We had been hearing and reading a lot about the glacier and how remarkable it was, but I was still not sure what to expect. Having grown up in Minnesota and Wisconsin I have seen plenty of ice and cold, so I figured this might be exactly that but on a larger scale. I was totally wrong. As I mentioned in the previous post we decided to take the Big Ice Trek through Hielo & Aventura. Our day started early with pickup at 7am. We took the bus from down town Calafate about an hour to the lookout balconies in front of Perito Moreno. We caught our first glimpse of the glacier as we rounded the end of Lago Argentina. It almost didn't look real. When we finally arrived at the overlook the sight was almost indescribable. There we were standing in front of a 60 meter (approx. 200 feet) high wall of ice that had the most amazing kaleidoscope of blues and whites. The boardwalk allowed you to get quite close to the face of glacier for some amazing pictures. What was incredible was that as the clouds and sun alternated the glacier would change colors. It was truly amazing to see.
After spending about an hour in front of the glacier it was time to hop on a boat and get close to it on the water side. The boat trip wasn't too long (only 20 minutes), but  it showed us another side of the glacier which was amazing too. The boat dropped us off at a little outpost where we were to start our hike to and then onto Perito Moreno. We were part of a group of approximately 30 people and after receiving some general instructions we were off on our hike. We hiked about an hour in the woods alongside the glacier until we reached a small yurt (tent like structure). This is where we geared up. We each received a pair of crampons or ice shoes as well as a climbing belt. We walked down the edge of the trees to the glacier, put on our crampons, and took our first steps on to the ice.
I won't try to elaborate too much with words and I will let the pictures do the talking for the most part. A couple of things you should know though:
There are lots of little lakes and rivers ON the glacier. If you aren't with a guide or go off trail it is a very dangerous place to be.
Given that the ice is always moving there are a lot of crevasses that are incredibly deep and amazing to see, but also dangerous.
After trekking for a couple of hours we had lunch on the glacier and filled up our water bottles with fresh and incredibly pure glacier water. The view and the taste of the water was amazing. That's some high quality H2O (thank you Bobby Boucher).
It was an amazing trek on the glacier and we got to cap it off with a crawl into an ice cave for a memorable picture. In case you were wondering, yes both Autumn and I had to lick the ice. 🙂
After an amazing 3 hours on the ice, it was time to walk back to the boat. It might sound a little crazy, but when you are hiking you spend a lot of time looking at the trail in front of your feet so on the occasions that we looked to the side it was always a shock to see the glacier right there. On the boat they served us some whiskey over glacier ice; Not too shabby!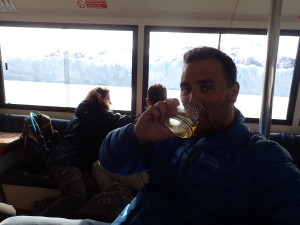 After a long day it was time to head home and have sweet dreams about glaciers, trekking, and whiskey! It was an unforgettable experience that I would recommend to anyone who is up for it. One restriction to be aware of is people over 50 are not allowed on the tour. This is just another reason why Autumn and I are glad we are doing this trip now.