After our T&T adventure, we signed ourselves up for some serious travel. We had a pair of loooooooong flights; the first from Tobago to Sao Paulo, Brazil (via Barbados) and then from Sao Paulo to Buenos Aires. Given that we were due to arrive in Buenos Aires at midnight, we decided to make things easy and book a room at the Holiday Inn close to the airport. It was a great idea. But before we get into our Argentina travels, a few comments about the day of traveling to get here. First (and most important), when planning on traveling for 16 hours in planes and airports make sure you have a good travel partner. Having done quite a bit of traveling, shit is bound to come up and if you are your travel partner can roll with it, then everything is good. I will tell you that Autumn is a great travel partner. She rolls with the punches well and we balance each other out well. For example, when we landed in Sao Paulo we were funneled in the direction of very different areas. I wouldn't normally have had a concern about the options, but when we were leaving Tobago they suggested we check baggage claim in Sao Paulo to ensure our bags made it on our next flight. Not a good idea. To get to baggage claim we would have had to leave the terminal, clear customs, and show our Brazilian Visa which we didn't have. So, onto option #2 which was passing through another security gate, then trying to figure out which terminal and gate we were due to fly out of. The information on our boarding passes was little to no help. To make matters more difficult the national language of Brazil is Portuguese which Autumn and I can't understand a word of. After passing through security we made our way to terminal 2, which seemed correct except for one small detail. Our gate was behind a closed door which clearly said (in Portuguese) "Wait for the door to open." Um… WTF does that mean? We are standing in front of the door and nothing is happening. And we are not the only ones. There are a lot of people trying to do the same thing we are without any luck. When you have a 3.5 hour layover in a country where you don't speak the language, you're not sure if your luggage is stuck in baggage claim, and you have a Harry Potter like portal in your way…..the only thing that comes to mind is: SHIT! After an impatient two hours the door opens and we are able to get to our gate. Much ado about nothing as they as. I guess it is another lesson for us to learn to go with the flow. At the end of the day we made it safely to Buenos Aires AND our luggage did too 🙂 🙂
After out lovely (actually lovely) night at the Holiday Inn, by the airport, we hopped in a Taxi to go into Buenos Aires proper. Just like the Fresh Price, I could tell that this cab was rare cause it was playing awesome 80s throw backs in English (She's like the wind, Betty Davis eyes, and more) making us feel right at home! Our Airbnb was in the Recoleta neighborhood, a very nice area with lots of restaurants/beautiful apartment buildings/shopping. Buenos Aires has A TON of people: 8-9 million people in/around it. Unfortunately, for us it was rainy, windy and about 50 F the entire time we were there! Even though we aren't really foodies, we did hit a few of the recommended food to-dos. We had amazing steak( both in its taste and the cheap price), delicious Medialunas (a sugary croissant), Panchos (hotdogs with crunchy fries & other crazy condiments), and empanadas of many flavors. We didn't spend all day eating, but we felt pretty good about our choices.
Our favorite attraction while there was the cemetery, Cemeterio De Recoleta. This is Buenos Aires' first public cemetery which means that people have private ownership of the mausoleums and they can be bought and sold. We were able to clarify that when they are sold they are sold without the current residents. Hey, we had to ask. There were hundreds of mausoleums! Some of them were huge, others were intricate, and some were completely falling apart (aka crusty). The history and beauty could be seen everywhere. We had a wonderful tour guide who spoke Spanish, Portuguese, & English and explained many important people who were buried there…most well-known to us Americans would be Evita or Eva Peron. The main level of the mausoleums had a prayer station and sometimes a tomb. Then, there is a set of stairs that leads down to the other crypts. Families are buried in the same mausoleum and you could see some of the other crypts and/or urns as you looked down the stairs from above. AWESOME!
Given the uncooperative weather, we tried to find things to do indoors as much as possible. That said, when we did go outside we had to stare at the sidewalk in order to avoid the huge puddles, uneven sidewalks, and the massive piles of dog shit. They don't have strict "cleanup after your dog" rules.
Sticking with our theme of trying to find indoor activities, we decided to visit the MALBA, which is the Latin American Art Museum. Sounds great right? NOPE! This was an awful experience of Modern Art. Autumn and I appreciate art. Art that looks like an adult created it!!!!!!! This was not the case. We went through room after room of circles painted in different colors, random lines crossing each other, and paint splattered on a canvas. But, these things were not the highlight…luckily we saved the basement for last. Playing on large screens were projections of beautiful, serene prairies/mountains with mostly NAKED LADIES, pole dancing. Obviously, they put a green screen up at Phipp's and then decided to call that art. Needless to say we were not impressed and the Mother with her very curious 5 year old daughter was not either.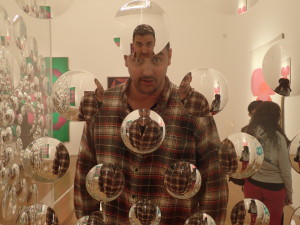 Las Violetas, Macos, and Parrilla Pena were all delicious choices for our dining experiences. We are on a budget (God knows if we have been following it), so we are trying to eat in for at least half of our meals. This means we aren't counting the super cheap bottles of wine, delicious cheese, or yummy market meats in this section.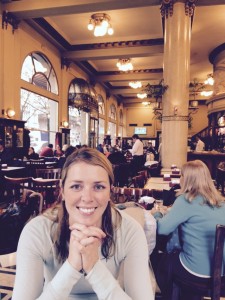 We were in Buenos Aires for technically 3.5 days, but it felt like less due to the weird airport hotel. In all, we've decided that while we enjoy large cities, we would much rather spend time exploring smaller cities while in South America. On to Puerto Madryn!!!