I am inclined to think that our trip to Tobago was meant to be. We had not planned on spending any time in Tobago, but it was fantastic. Our original itinerary had us flying from Trinidad to Tobago on Sunday morning at 6:30am then catching our flight to Argentina via Barbados and Sao Paulo, Brazil. As chance would have it our Airbnb host happened to work at Caribbean Airlines, which was the airline for the first leg of our trip. She was able to reschedule the Tobago leg of our trip to Friday afternoon at 1:35pm. What a wonderful culmination of circumstances! We made the 18 minute flight to Tobago and landed on an island that I would put in the bucket "the real Caribbean." Not only is it a much smaller, safer, and more laid back version of Trinidad, but the beaches are incredible. From our guesthouse there were two different beaches each within a 4 minute walk. I will elaborate more in a bit, but I want to tell you about our guesthouse.
We stayed in the fishing village of Boccoo. When we were researching places to stay it fit the criteria of being out of the way, quaint, yet still close enough to the airport for our Sunday morning flight. We found the guesthouse on booking.com and were able to book it to check in Friday and check out Sunday for a reasonable price. When we arrived in Tobago, there was a taxi waiting for us at the airport to take us to the Fish Tobago Guesthouse. So far so good right? Here's the rest of the story… Upon arriving at the guesthouse we were met by the proprietor, Brandon. Brandon promptly informed us that they had a minimum of a 3 night stay and we were not able to check-in. His recommendation was that we call booking.com and cancel the reservation and once that was complete then he could talk to us about maybe staying at the guesthouse. Apparently booking.com has been getting this wrong a lot and we were the people that were to help him take a stand. I won't get into the dirty details, but after about a half hour trying to get a hold of booking.com we were able to cancel or reservation. Our natural response: Shit. Now what?
Brandon, to his credit, was very accommodating post our conversation with booking.com. He let us stay for the 2 nights (for less than we were planning on paying) and said he would definitely make it worth our while for the inconvenience. He wasn't lying. As soon as we got past the check-in shenanigans we hopped in his car for a little tour of the island. The first stop was Pigeon Point. What a great spot! It is a beach/park with a handful of bars and trinket shops for the tourists. The sand was incredibly soft and white and wrapped around the point on all three sides. Throw in a rum and ginger ale and a beer for Autumn and we definitely started to relax. We did a quick drive back to Boccoo and Autumn and I walked from the guesthouse to Boccoo Beach to watch the sunset. Had we been thinking ahead we would have worn our swim suits and taken in the sunset from the water. A beer at a beach bar capped what had already been an eventful day.
We were warned by Brandon that since we were only here for 1.5 days he wanted to make it up to us by keeping us busy on Saturday; mission accomplished. Our day started off with an 8:30am wake up call for fresh smoothies and coffee in the front yard. Not a bad way to start the day. Apparently one of the other tour guides stayed out too late on Friday night and decided not to show up at the scheduled time. No problems. It is the island and we were definitely running on island time. When the second car finally showed up around 11am we were off on our Tobago adventure. First stop was the Highland Waterfall. During the easy 45 minute hike to the waterfall, we were treated to fresh mangoes and guava right off the trees. Not a bad snack break! To be honest I wasn't sure what to expect from this "waterfall." Tobago does has some elevation, but not a ton so I was not expecting much. Once again, I was pleasantly surprised. After the hike and the weather in general (93, humid, and not much breeze) we had definitely earned a swim.
After the waterfall hike it was back to Boccoo for some lunch and to get ready for fishing. I haven't mentioned yet that Brandon kept talking about a Bar-B-Que Saturday evening and we were to help provide dinner. That meant getting out on the water and fishing for Blackfin Tuna that had been biting well. Once again, Brandon didn't disappoint. There were five of us in the boat, but only three of us were doing the fishing. Brandon was the guide and Autumn played the role of the paparazzi. So fishing… there was only one fishing rod that was put in the boat, which I found a little strange, but I soon found out why. Turns out we were fishing with hand lines! Sweet! I haven't hand line fished in the ocean before, but I will say that ice fishing prepared me at least a little (thank you tip-ups!). It took approximately 1.5 minutes for the guide to yell, "Fire! Fire!" and for me to hook my first (and only) Tuna. Actually, another gentleman on the boat had one on at the same time, so our boat had two tunas right off the bat. It all happened so fast and the result was an 11 lb. tuna for me. Not too shabby! We ended up catching four Tuna, a King Fish, and a Trout. Not a bad haul for an hour on the water. We feast tonight!
I mentioned above that we wore shorts instead of our swimsuits on Friday evening when watching the sunset. I am happy to report that we didn't make that same mistake Saturday evening. The water felt great and the sunset was beautiful. Autumn commented on how fast the sun goes down. I would guess the time it took to go from when the sun's bottom first hit the horizon until it slipped away to the far side of the world was less than 1 minute. Pretty neat.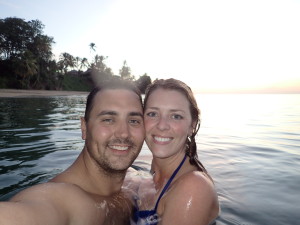 Once the sun was down we made our way back to the guesthouse for the fish feast. What a great experience. We ate freshly caught fish, veggies, and pasta, with a group that included people from Trinidad, Tobago, US, Venezuela, and Belgium. Along with a delicious dinner Autumn and I got a chance to practice our Spanish with a family from Venezuela. My abilities are still very much a work in progress. Fortunately for me, Rum is a universal language and the father Freddy and I definitely bonded over shots of Diplimatico. 1-2-3-4. Sault! Me Gusta!
After a much too short trip to Tobago the adventure continues with a day of travel to Argentina. Stay tuned!