On Thursday the 24th we walk the 30 minutes to the bus station. This was Autumn's first time carrying her 35lb bag for a long period of time. Due to the fact that we had no idea what to do once at the bus station and coordinating tickets it turned into 1.25 hours instead of 30mins. Great way to break her in! The block surrounding the bus/train station was insanely busy, very dirty, and quite confusing. Luckily, we got it all figured out and eventually made it into an area that was more like an airport terminal instead of the ghetto that we had been standing in. The bus was delayed 2 hours, so we ended up spending 4 hours there instead of 2, but not a big deal because we are learning patience! I would call this "island time."
South American busses are double deckers with different classes. We choose the middle class which is "Cama Ejecutivo"….this means the chairs recline to 140 degrees, we get blankets/pillows, numerous meals, wine, and movies. We didn't think it would be THAT BAD, even if the trip was 18 hours. Autumn thought it was pretty bad. The bus was borderline warm (which when riding in a vehicle is never good), the food was pretty terrible, the movies were played in the front & middle with the sound coming from the back, and I'm pretty sure the sign in the bathroom "this toilet only recycles liquids" means that we can't take a crap the entire time. It sounds worse than it was and, all-in-all, it's a decent & inexpensive way to travel in South America, so we are just going to have to deal!
Around 1:00pm on Friday we arrive in Puerto Madryn. It is much bigger than we expected (population 100,000), but still fabulous! It is clean, feels very safe, the beach is HUGE, we can see whales spouting in the distance, and there are happy, stray dogs hanging out everywhere. Seriously, they have golden retrievers, black labs, and other random dog mixes EVERYWHERE! We were eating lunch out on a patio overlooking the beach and three super sweet dogs roamed up and down the aisles. Our hostel is only 2 blocks from the beach, so we took full advantage once we checked in.
The hostel we stayed at was named Hi Patagonia. This was our first experience with a hostel. The place itself was really clean (in fact their bathtub is definitely cleaner than ours at home), there was a large community kitchen/dining/living area, breakfast was included, and the hosts graciously helped us to book tours and answered all of our questions with ease. We were a little disappointed to find out that our 4-person room had two bunk-beds with both of the bottom beds already taken. I'm 6'6 and sleeping on the top bunk didn't seem like the best option. We did it for the first night and we survived! After that our bunkmates moved on and we were able to sleep on the bottom (thank goodness). Definitely not ideal, but since it was only 2 nights it wasn't that big of a deal. We will definitely being getting private rooms if we stay at hostels from here on out.
In order to soak up as much of the area as we could, we decided to do a tour of Peninsula Valdes. We were excited because the tour guarantees you will see whales. We were sold! This was a very adventurous day, so I will lay it out piece by piece.
1st Stop was Doradilla Bay: This was actually one of the highlights of the day. The bus pulls up to a rocky beach and we can already see numerous batches of whales jumping, spouting, & diving in the water. The tour guide was intending to give us some information before he opened the doors, but we all basically pushed past him in order to run to the water. Whales were EVERYWHERE! Female Southern Right Whales enter these waters to mate and to have babies from August through December. Which means there were lots of baby whales!! Autumn and I were in complete awe of how close these huge animals were to the shore maybe 50 yards or so at the closest. Mama whales were teaching their babies to roll over on their backs, slap their tails, and other whale tricks. It was amazing 🙂
2nd Stop was Puerto Piramides: It is called this because when sailing into the bay there are rock cliffs that look similar to pyramids. The "Pyramids" have begun eroding over time, but from a distance you can see it. Puerto Piramides is where we donned our life vests and boarded a boat for our on-the-water whale watching excursion. Since the Peninsula Valdes is a National Park, the only place you can get on a boat to view whales is in this town. Interestingly enough, the bay is quite shallow and can't accommodate a pier, so we boarded the boat on a trailer about 100 yards out of the water and then were backed into the water with a tractor. Whatever works I guess. The bay is beautiful, but the totally awesome part is you can see whales spouting and jumping EVERYWHERE! There were probably ten boats in the bay, but no one had to share a set of whales. You'd be watching a pair of whales 50 feet from the boat and in the background you could enjoy the large splashes from other playful whales. So cool!!! After 1.5 hours on the water it was back to town to grab a bite to eat and jump back on the tour bus.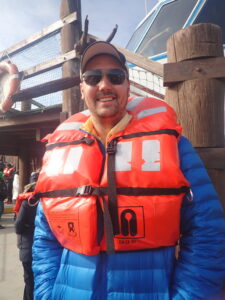 3rd Stop was Delgada: This is where we viewed the Elephant Seals. We were able to see them laying on the beach while we were standing on a cliff. Very cool to see, but they sleep most of the time. The few that weren't sleeping were amusing to watch as they tried to move their fat bodies from place to place. The males are massive and some were quite loud sleepers. There were many cute, black pups hanging out close to their mamas. All in all the scenery was awesome, the seals were cool, but we missed the action of the whales!
4th Stop was Punta Cantor: Penguins!! There is a small colony of Patagonian Penguins that come to this particular beach to nest. They were literally right next to the boardwalk. The only thing between us and the penguins was a small fence and probably 2 feet. The male penguins arrive on the beach a couple of weeks before the females to get the nests ready. Apparently they use the same nest year after year. A few of the females had arrived, but there were still some males getting their nests ready for babies (sadly no babies yet…they won't hatch until November). We were instructed not to cross the fence or touch the penguins even though they were right there. It was crazy, they didn't give a shit about the people 2 feet away talking and taking pictures; they just kept doing their thing. Mostly the penguins were busy sleeping, squaking, flinging rocks out of their nests, or just hanging out. Even though they were wild, it almost felt like we were in a zoo because they were so close and calm. Definitely a neat opportunity to be up close and personal with penguins.
The bus journey along the way: We were probably on the bus for about 3 hours total during the trip and were lucky enough to see a lot of other wildlife. We saw their version of a rabbit, Mara. It had a bigger body, smaller ears, and basically a beard. They also had Choique (like an ostrich) awkwardly running around all over the place. The Guanaco is similar to a llama/alpaca and they hung out in crowds of from as small as 3 to herds of 20+. There were also lots of sheep with their lambs and a few random horses/cows. The sheep, horses, and cows were property of one of the many estancias (ranches) on the peninsula. Random side note, they sheer the sheep once a year and make $25US per sheep. Scale certainly helps.
So, it turns out we really fricking like whales, so after booking our next bus/flight/Airbnb we decided we'd go to lunch and then planned to taxi out to a local beach to see the whales one last time before we left Puerto Madryn. On our walk back from lunch we saw a large group of whales causing a lot of commotion. This wasn't far from the water's edge, so we went to explore. We were informed that it was likely a group of males trying to mate with a female. The ladies apparently don't really like the loving, so the boys team up. The female will flip on to her back in order to prevent penetration. The males will then work together to get her flipped back, so they can each have their turn. Luckily for them, and unluckily for the female the male has a 2+ meter long penis. Yup. That's. Right. Now don't think that we actually saw a whale penis. I'm not sure Autumn could handle that image….but we did get an awesome show regardless. We hadn't even taxied to the whale watching bay and we were already seeing some cool shit.
We shared a taxi with another couple from the hostel (turns our they are awesome and are just finishing their 11 month RTW trip that's basically the same as ours, but backwards….they gave us so much great advice!). It was a 15 minute trip, really inexpensive, and probably the best part of our trip as of yet! We went back to Doradillo Bay, but this time there were many other people with the same idea. Basically, the locals and/or smart people bring their lawn chairs, food, beverages, and find a spot to hang out. Whales were once again everywhere and so close!! The beach is really long, so we had a hard time deciding where the best spot would be to view the whales. Turns out every spot was good. Autumn was FOMOing pretty hard, so we'd be way on the left side enjoying a set of whales and then book it over to the other side because those whales were closer. We were there for 3 hours and she eventually settled down and realized that all spots were good spots. There was even an albino baby!!! He loved slapping his tail in the water….seriously obsessed with it and didn't stop for like 10 or 15 minutes. 🙂 🙂 🙂 Whales are so amazing, majestic, huge, incredible, etc. We feel so lucky to have been in Puerto Madryn at just the right time!!!!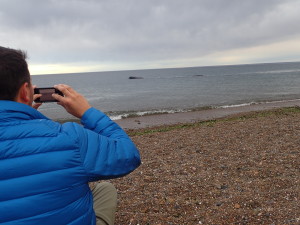 We got back to the hostel to talk more with our new "travel agent" friends, so they could give us advice and share stories about their awesome trip. Their guidance was unbelievably helpful and reassuring. WE CAN DO THIS!!!!
We boarded the 10pm bus to Comodoro Rivadavia, It arrived at 4:30am and we were expected to board our flight for Calafate at 8:00. It was delayed for two hours. We boarded it, the plane started up, while we were taxiing we both feel asleep. Unfortunately, not for long. The engines stopped and we were asked to get off the plane, so they could fix an issue. Great. We eventually boarded and it was still better than riding on a bus for 24 hours. It was basically the same price to bus/fly than it was to bus 24 hours. We're not ready for that yet! But, it will soon be a reality. We are currently in Calafate hiding in an Airbnb: doing laundry, relaxing, and doing as little as possible for 2 days. Then, we will reunite with the hostel life and get back into making memories 🙂