Day 1:
We arrived in Puerto Ayora, Galapagos after 1 taxi ride, 3 plane rides, 1 ferry ride and 2 bus rides. To say we were excited to get there is an understatement! Drew and I have had the Galapagos at the top of our "list" for many years. We had a few things on the to-do list before we could really dive in deep to the natural wonders of the island (aka get a hotel, sleep, eat, & shower).
After meeting our basic needs we knew we had one big ticket item to check off….finding a last-minute cruise. AHHHHHHHH! Exciting, stressful, & tedious are the words we would use to describe this task. We knew we would have to be flexible, haggle down the price, and keep our eyes open for sketchy business. After visiting 6 tour shops we seemed to find the best option for us. We weren't quite ready to "say yes to the cruise" without getting back to the hotel to do a little research (forking over that huge amount of cash is a big deal). About 30 minutes later we returned to the tour company ready to book…only to find out the cruise was full!!! There were numerous couples walking around Puerto Ayora doing the same thing we were and somebody snatched up our cruise at a different tour company. DAMMIT! We kept our cool as our tour agent frantically called around to different boats. He awesomely found us a similar cruise, in First Class, for the same price we were going to pay with the "tourist superior" class. YAHOOOO!!!
The next step was to pay. Easy right? Nope. We knew they charged a large fee for using credit cards, but thought we'd keep it easy on ourselves and pay half in cash and put half on our credit card. This agency did not accept credit cards at all (insert a picture of us pretending to play it cool). So, we left, maxed out all of our daily limits for our atm cards, carried copious amounts of money in my money belt, and walked back to agency to hand over a very tall stack of cash (the ATMs don't give our hundreds..). Ta-da! It was such a relief to have the cruise booked, so we could get to to the "enjoying" part of the Galapagos! But, first a celebratory drink and then MORE SLEEP.
Day 2:
After a good night's sleep we woke up early-ish to begin our day. We found a nice little café that served American breakfast; complete with hash browns, bacon, eggs, juice and coffee. Not too shabby. After breakfast we started our walk towards the Charles Darwin Center, about 15 minutes from our hotel. This was really our first chance to start seeing some of the wildlife native to the Galapagos. During this short walk we were treated to sea lions hanging out at a small fish market, as well as Marine Iguanas and crabs all over the place. The sea lions were ridiculous as they were literally nudging up against the people cleaning and selling fish to get the scraps.
As we approached the entrance to the center, there were Iguanas lounging all over the place. They also seemed to be perfectly content to let us get close and take some pictures. The Charles Darwin Center itself is a fairly big area with lots of labs, mangroves, rocky beaches, gardens and tortoise sanctuaries. Unfortunately, they were doing some construction which limited our access. Nonetheless, we got our first look at Galapagos Tortoises and were thoroughly impressed.
After a little siesta in the afternoon we walked to Ninfa Lagoon another recommendation near Puerto Ayora. While it was very serene and full of mangroves, there was not much wildlife to see. We spent about an hour there before we decided to make our way back to the main pier to watch the sunset. The pier was a great time with lots of wildlife to watch, including another sea lion that looked like he had a cold (sniffly nose and runny eyes). Our suspicions were confirmed when he sneezed toward Autumn and hit her legs with some snot rockets. I laughed, but Autumn didn't think it was as funny. 🙂 After a quick stop for snacks it was back to the hotel to blog and attempt to post past blogs (wifi in the Galapagos is the shittiest we've experienced, but oddly enough we don't mind).
Day 3
We awake to day 3 of super cloudy weather and are starting to wonder if that is just how things are going to be here. We've only had about 5 minutes of sun for the past 2 days we were here and really no rain to go with the clouds. Luckily, the weather is warm and humid, so the sun really would be just an added bonus. Today we are headed to the infamous Tortuga Bay. The entrance is only a ten minute walk from our hotel, but after that you must take a 30-40 minute path to reach the water. The path is surrounded by cacti, other dry shrubs, and volcanic rocks. Many creepy-crawly creatures skitter by as we are walking…some sort of salamander.
Once we reach the beach we knew it was well worth the walk. Our first glimpse is of powdery, white sand and huge rolling waves. This first area is strictly for brave surfers; no swimming allowed. We carved out a seat on part of the sand dune wall, so we could take in the salty breezes and awesome ocean views.
As with much of the Galapagos, so far, there were many iguana friends. They are a sight to see when they are fighting the ocean currents in search for green and red algae. They blend in really well with the black lava rock, so they can sometimes be difficult to spot unless they are in the sand.
After listening to the loud roar of the immense waves we decided to move 15 minutes down the beach to the swimming bay. The quiet of this bay was a pleasant change and many other people agreed with us. Fortunately the beach was large and we didn't have any issues finding a place to lounge. As we walked the beach we saw a baby shark of some sort, sting rays, and other small fish. Snorkeling wasn't meant to be due to one faulty mask and murky water. This beach did offer a path along a cliff with many animals to view and a small, secluded beach.
The walk back down the beach was as beautiful as ever : )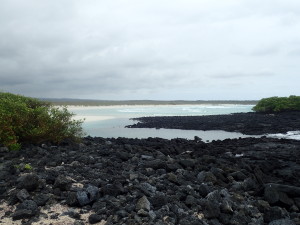 After a long and wonderful day at the beach we decided to treat ourselves to a huge feast! We went to a local restaurant and ordered the Isla Platter which consisted of grilled: tuna, steak, shrimp, calamari, pork, chicken, asparagus, broccoli, and potatoes. YUUUMMM! Life is good!
Day 4:
More clouds this morning, but we know not to let it concern us; exploring must continue! We took a water taxi across Finch Bay (5 minutes) to start our hike to Las Grietas. This hike brought us through stagnate ponds, and a giant cactus forest to two giant lava rock fissures filled with brackish water. Here we found clear, cool water that was great for a serene snorkel. There weren't extreme species, but we say an eel, and a few schools of fish. The lava rocks jutted up at many levels creating the effect of making the paths nearly impassable, but by contorting our bodies a bit we were able to make it through.
There was a small hike through the giant cactus forest and to an overlook. We were able to see many turtles popping out of the water and a few iguanas swimming for lunch. So cool!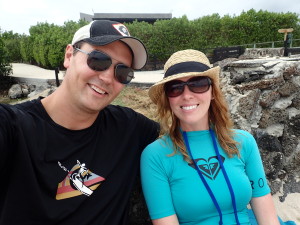 Our free "show" for the evening was watching a fishing boat come into the fish market area. We were not the only ones in the audience…many other tourists, sea lions, pelicans, and other birds were rapt with interest. The fisherman dug through their large, iced cooler to pull out 30-40 fish of different kinds. This got the attention of 20 or so hungry birds who proceeded to hover, circle, and swoop towards the boat. The sea lions on the other hand mounted the stairs to wait patiently by the fish market. Once the men started to filet the fish things started to get very interesting!!! They would throw the leftovers over the side of the boat and all hell would break loose! 95% of the fish parts never hit the water; they were pulverized by the lucky bird who managed to gulp the large pieces in 2 seconds flat. If it took longer than 2 seconds they were overtaken by his closest three "friends". It was a quite the spectacle! Oh AND we saw a seal lion pup nursing!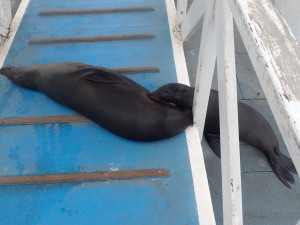 That evening we picked up our wet suits, snacks, extra sunscreen (never ever buy sunscreen in the Galapagos….most normal sized bottles were priced at $25. We bought a 3 oz bottle for $11. WHOA.), and some booze to bring with us on our 8 day cruise. YAHOOO!!!!