The night before we discussed making our last full day in Leticia a little less structured. Autumn and I had a leisurely morning with breakfast at a small café (a ham and cheese omelet, bread, and coffee for $2.10 US) and then met up with the Hetrick's to try and secure a boat for a half day tour. After getting a stupid expensive quote from a tour company, we walked down to the boat dock and were able to secure a private boat for 3-4 hours for a good price.
The driver offered us three stops for our trip. Our first stop allowed us to take a walk through the jungle. We saw some enormous lily pads, enormous trees, the world's smallest monkeys, and we even got to swing on vines like Tarzan!
After our jungle hike, we spent a little time in a jungle opening enjoying a quick rain shower with some parrots.
We jumped back in the boat to head over to the place where we held the sloths yesterday. It was a ton of fun so naturally we had to do it again. While in transit we could see a wall of rain coming our way from up river. The driver did a great job of getting us to land and under cover in the nick of time.
Even with the rain we got to hang out with our little creature buddies again!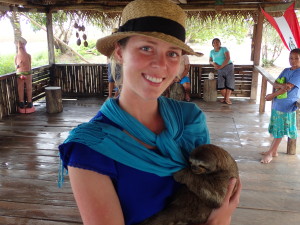 Nothing like a cup of coffee. In the rain. With an Anaconda. 🙂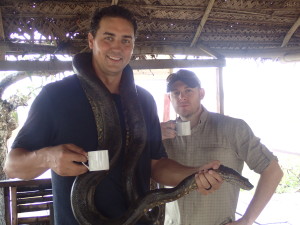 And some baby monkeys!
A few more scenery shots on our way back to Leticia.
We wrapped up our day by grabbing a quick bite of linner (lunch/dinner), spending some time in the pool, and watching thousands of parakeets fly in to Santander Park to roost.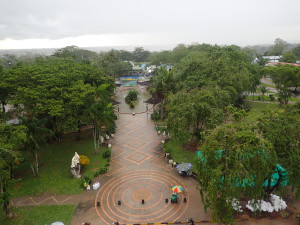 Not a bad way to spend our last full day in the Amazon!