After a great start yesterday to our Amazon adventure, we were all looking forward to our full day boat tour. We met up with the guide at the Anaconda Hotel where Erik and Chelsia were staying and were led down to the boat launch. Today's boat was much larger, a two engine speed boat with 8 other tourists in addition to us. After a quick intro the boat took off upstream against a very healthy current. Fun fact, the Amazon River is the longest, deepest, and fastest moving river in the world. The current was very impressive and we aren't even in the real rainy season yet! Speaking of the rainy season, the river can rise as much as 50 – 60 feet above its current level. Rather amazing to think about. No wonder why all of the houses near the river were on stilts. Our guide said that everyone is used to this fact and it really isn't a big deal; like snow in the winter he said…
Anyway, on this trip we saw dolphins again early on and then continued on to Monkey Island. If you would have asked us what we expected out of Monkey Island, none of us would have been correct. Instead of taking a walk and seeing monkeys at a distance, we got bombarded with monkeys almost from when we stepped on land. Seriously, they were jumping on our heads, climbing all over us and in general using us as play toys. Absolutely an amazing experience.
Next stop was at an Amazon village. Apparently in this particular village, the women rule so we were welcomed by the grandmothers and treated to a dance. Autumn got to participate, which was nice, but given that she was already HOT it made for a sweaty few minutes. We then did a little perusing of some of the local wares, but since we aren't really into trinkets we left empty handed. Sorry Kelly Gardner. L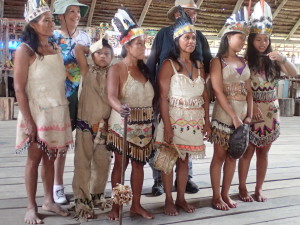 Next stop was Puerto Narino where we had lunch and then I climbed to the top of a lookout tower. There were some great views.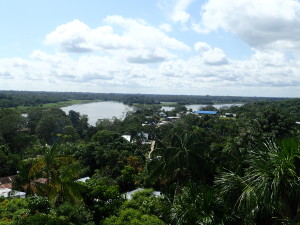 While I was taking pictures from the tower, Erik and the crew were down below getting his drone set up. He got it going and took some amazing footage and pictures from the air. Talk about a unique view!
We saw some great scenery as we headed back down stream towards our last stop. Upon arrival at another village, we were led to a thatch building overlooking the river. When we first arrived there were a few monkeys and parrots playing in the building which were very fun to see. The next thing we knew, the local handlers started bringing other animals for us to see and hold.
It started with a crazy prehistoric looking turtle: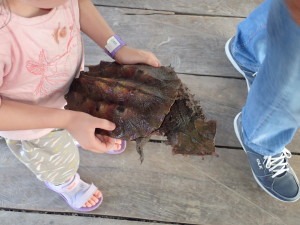 Then an owl: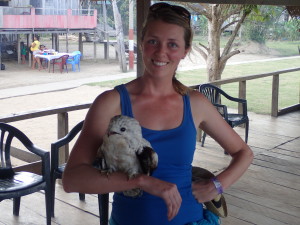 I'm pretty sure that Autumn is getting ready to start school at Hogwarts soon…
And then we maxed out the cuteness scale when they brought out baby sloths. Seriously, they are ridiculously cute, soft, SLOW, and cuddly. Cora and Alia were so happy to be holding them.
Oh yeah, Autumn and I got our share of cuddling with them too!
Manly + Sloths!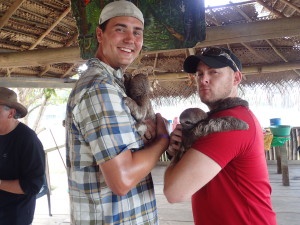 And an Anaconda! Eat your heart out Alice Cooper!
Out behind the houses was a little pond with GIANT lily pads over three feet across!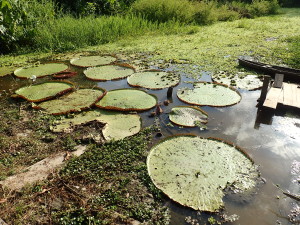 Finally, we saw a capybara which is the world's largest rat. Aside from looking a little weird it was a cool animal to see. Apparently these are also a favorite meal for large anacondas. The snake would have to be large and in charge to down one of these!