On our scheduled day to join Peru Hop, the alarms went off at 5:15am and we were greeted by our guide for the day, Maurice, at 5:30am. He was supposed to arrive at 5:45, but I would rather be early than late, so we quickly grabbed our gear and prepared to start our adventure. We boarded a Peru Hop bus with 10 other people and started our 4 hour desert bus ride to our first stop, the coastal city of Paracas. During the ride we saw many unusual towns/villages along the way. Unbeknownst to us, we ended up spending most of the drive in the northern edge of the Atacama Desert. Some of the villages we saw seemed to be built directly into the sand dunes, others were sandwiched between ocean & desert, and almost all of them were very secluded. It was fun to see such unique landscape.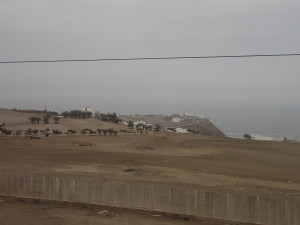 Upon arrival in Paracas we were given about 45 minutes to check in to our Hostel before we boarded the bus again for a quick trip to the Paracas Nature Reserve. Back on the bus we wove through the desert and brought us to some amazingly scenic views of the desert running right into the sea. There were beautiful, rolling sand dunes that quickly dropped off to the water. From our first view point we were able to see Dolphins playing in the surf. Our second stop was Red Beach which is aptly named due to the small red pebbles eroded from the surrounding red hills. All in all it was a nice quick trip to see some scenery, but no serious adventuring for this tour. In the evening we talked travel with our new friends from Arizona while walking the beach and drinking Cusquena (local beer).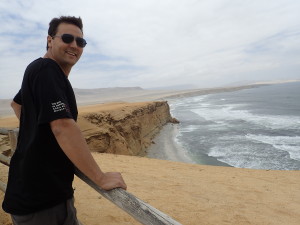 The next morning we took a two hour boat tour to the Ballestras Islands, which they warmly refer to as the "poor man's Galapagos". Of course we were excited! The tour did not disappoint. We started off the tour by watching a pod of dolphins frolic around a large fishing boat in the harbor.
Then, we continued on a 25 minute speed boat ride to the Islands. The islands themselves were massive rock outcroppings with little, if any, vegetation, but tons of wildlife!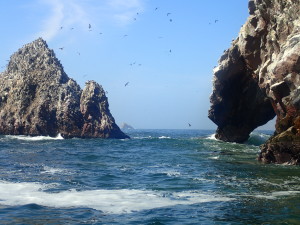 We saw sea lions, penguins, red crabs, star fish, cormorants, vultures, pelicans, and many other kinds of birds. They were everywhere! Probably the best part was getting up close and personal with the sea lions.
Paracas was a blast and helped us to be even more excited for the Galapagos in about two weeks : ) We have a short bus ride to get to the next stop….Huacachina known as "The Dessert Oasis".