Our flight to Lima left Santiago at 6:25am which meant for a VERY early wake up call and taxi to the airport. As soon as we were up in the air, we were treated to some of the best mountain views I have seen on this trip. We lifted up through and then over the clouds and had a spectacular view of mountain tops all over the place. It almost looked like the clouds were water from which the mountains were emerging. Very cool.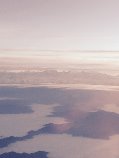 Unfortunately that view didn't last too long and the mountains disappeared and clouds were the only view in sight. We arrived in Lima, checked in through customs, and were greeted by our driver holding a sign that said Autumn Dale. Who knew I was traveling with a VIP?!? Our driver successfully navigated us through the shit show that was driving in Lima Peru. For sure it was the worst traffic and driving that we have seen in South America. This is after coming from Argentina where street laws are not obeyed! We arrived at the hostel, checked in, found a decent Chinese Restaurant which was PACKED, and struggled to get internet access (mostly for Drew to check his Fantasy Football scores) before going to bed at 8:00pm. We had a very early morning, the time changed by two hours, and we had to be up at 5:15…don't judge!
Oh, and here is Autumn petting one of the wild cats in the Lima Cat Park.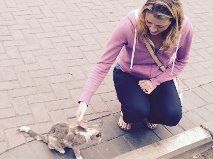 We are excited to begin Peru Hop and share our experiences with you!