We've come to figure out that we experience some form of surprise when we arrive in a new city. Apparently, we are terrible at researching, don't ask the right questions, or it's just a natural feeling we will have with each new city. For example, we were picturing Mendoza (Argentina's wine country) to be a quaint little town with beautiful scenery. NOPE. Mendoza is a large city which has a population of 1 million if you count the surrounding "suburbs". The scenery is beautiful as long as you look towards the Andes Mountains and ignore the "mountains" of trash everywhere. Argentina has a serious littering/trash issue and as long as you can look beyond that the country really is beautiful.
Day 1 we planned to stay at the recommend Alamo Hostel. They didn't have any private rooms, nor did they have any mixed dorms we could stay in together. Drew stayed in a nine person dorm on the top bunk, in the middle of the room. I stayed in a four person, female dorm on the bottom bunk. Needless to say we saved some cash, but then peaced out pretty fast! We walked by a Sheraton on the way there, so being the adventure seekers that we are….we booked a room for the next three nights. BEST IDEA EVER!!! We used our points and because we are in S. A. it was an incredible deal. King-size beds aren't something you can find in a hostel. We slept really well and enjoyed a free SPG members breakfast every morning (best coffee we've had in Argentina and they catered towards an American style breakfast, another first).
We took a group tour to two vineyards and an olive oil production facility. The tours were fun and  we got to see the crazy huge casks of wine. The cask pictured below holds 44,000 liters of wine! The olive oil factory was just a ruse to try to sober us up with bread at the end of the tour and we didn't mind one bit.
The next day we rode the city bus to Maipu (literally pronounced "My Poo"…I had a difficult time pronouncing it because I'm a child and I think it's funny). Argentina does public transportation really well and we've been happy to take advantage of the cheap prices to get to where we need to go. Maipu is one of the regions of Mendoza that grows grapes and has "bodegas" or vineyards that give tours. Here we rented bikes, got a map, and started on our winery bicycle tour lead by Mr. Drew Dale. We had about 5.5 hours to see and consume wine. Unfortunately, time flies when you are drinking wine on a balcony overlooking the vineyard & mountains. This means that we only actually visited 2 vineyards, 1 wine shop, and 1 brewery. But, they were all great in their own way.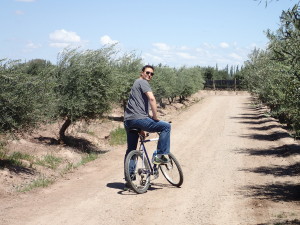 The first vineyard was Vina Del Cerno. It was an older vineyard with delicious sparkling wine. They like to call it "Champling" wine….this happens when they are trying to speak in English and accidentally combine Champagne and Sparkling. Yummy! This place did not have great views, but we are still fans.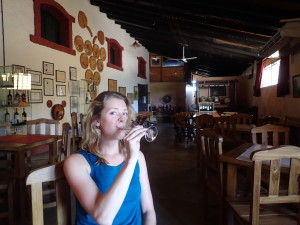 The next vineyard was Mevi Bodega. This place poured seriously large glasses of wine. Wine "tasting" isn't really a thing unless you are on a tour; everyone else buys 3 full glasses of wine to sample. So, 6 glasses of wine seemed like the best option! The balcony and view were the best here. We spent a lot of time trying to finish our wine and enjoying the beautiful scenery.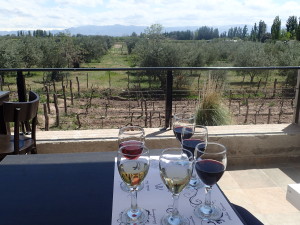 We mounted our bikes for what seemed like a 20 mile bike ride, but was really only 12 km. The bikes were just so terrible that every pump was a struggle. Anywho, we stopped at La Botella which is a wine shop. We ate delicious empanadas, did a wine tasting (like an actual one with smaller portions), and received a free bottle of wine as our present to take with us. Score!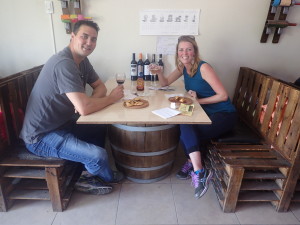 Back on the bikes again to switch things up and go to a brewery. The beer was terrible, but there was a puppy!!! We weren't able to stay long because the bike place would be closing soon, so we jumped back on the bikes to head back. By this time I had to pedal twice, coast, pedal twice, yell at Drew, and then repeat. 🙂 I'm sure it was the exertion and not the wine that made my legs feel numb 🙂
Our last day in Mendoza we decided to calm our aching bodies by visiting the thermal baths, Termas de Cachueta. This place has about 15 pools each set at a different temperatures, bubble power, and locations. It was only about 60 degrees, so the pools set at 70 degrees were pretty vacant. It was a relaxing and enjoyable experience (crowded and slightly dirty? Yes, but snoozing in a bubbly/warm pool is still pretty great). For those of you that may be interested I wouldn't go out of your way to get there.
For dinner our last night we got a great recommendation from the Sheraton Concierge; El Patio de Jesus Maria. I know is sounds weird for us Americans, but the food was amazing. Drew got the Chorizo de Bife and it was the best steak we have eaten in Argentina to date. We would highly recommend it. We also tried to be more Argentinian that night and didn't even get to the restaurant until 10pm. Needless to say, after a huge dinner it was time to go nighty, night as soon as we got back to the hotel.
All in all Mendoza was worth the visit since we were going to be in the region, but for all of our American friends I would not recommend going out of your way to stop there. The wine is good, but you can buy it anywhere in Argentina without having to see the trash heaps and dirtiness of the region. Now we are off to test out Work Away by "volunteering" on a finca (farm) in San Rafael. We shall let you know how that goes…