Day 1:
Our first day started off with a beautiful beach view from our air conditioned hotel room (a/c was added to the must-have list after living without it in the Amazon). We walked along the board walk to a café that served farm fresh greek yogurt. A farmer up in the hills delivers it daily. YUM! The town of Taganga is a horseshoe shaped bay surrounded by the lush Sierra Nevada Mountains.
There wasn't a cloud in the sky, so we decided to take a short boat ride to Playa Grande. The woman at our hostal helped us to arrange a boat to Play Grande and called one of her friends with a restaurant on the beach to look after us. Very nice. The beach itself is smallish and full of restaurants, lounge chairs, and lots of people. Upon arrival we were guided to a couple of chairs in the shade where we plopped ourselves down, opened cervezas, and proceeded to watch the world go by. Most of our day was spent swimming, snoozing, and basically just soaking it all in. There was even an ice cream man pushing his floating ice cream cooler through the water ringing his bell the whole time.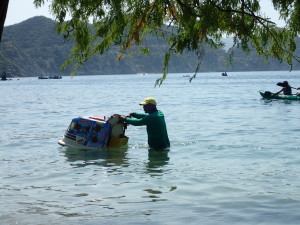 When we decided it was time for lunch, we were brought a tray with a variety of freshly caught fish for us to choose from. No filets down here. They just throw those babies on the grill and served them to us head and all! I can't give the restaurant a rave review, but it was a fun experience.
After a nice afternoon on the beach we boated back to Taganga around 4:15 for a quick shower and get then back outside for the sunset. The Taganga Beach Bay is perfect because the sun sets directly behind the edge of the Sierra Nevada Mountains. Tomorrow we are going to try to watch it all from our balcony!
After some delicious beachside tacos and daiquiris we headed back to the hotel to get a little research done and do some reading.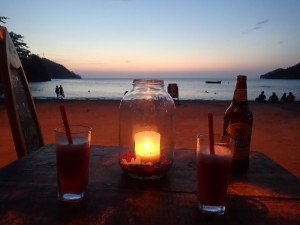 Day 2:
Today was the day I finally got to do some scuba diving. After doing some research yesterday, we connected with Oceano Scuba and scheduled a 2 tank dive for me with Autumn able to come along and do some snorkeling. Oceano was highly rated online and they certainly lived up to their rating.
After a quick breakfast we arrived at the scuba place around 8:15 to check-in, meet our guide, and grab our gear. Patricio was our (English speaking) guide and got us all geared up. Next it was onto the boat and the quick 10 minute ride over to their "beach" hut in Tayrona National Park. After dropping a couple of people off at the beach for their intro diving lessons, we headed out to Isla de La Aguja to do our first dive (and snorkel). The water wasn't overly clear, with a visibility of around 25ft, but enough to make the dive enjoyable. We dove a nice reef break along the island and saw lots of fish and even a few different eels.
After the first dive we chilled for about an hour at the beach hut and enjoyed some fruit, sandwiches, water bags, and sun.
While I was going back into the water for our second dive of the day, Autumn decided to stay at the hut and hang out with her new Canadian and Australian friends. Similar to our first dive, we got to see lots of smaller fish as well as a couple of HUGE Green Moray Eels. I mean these guys were monsters. Fortunately (or unfortunately) both of our dives were deeper than our underwater camera would allow, so you will just have to take my word on the fish. 🙂
After the second dive wrapped up we picked up the beach goers and headed back to Taganga. We were all very pleased about the day.
We caught another beautiful sunset before heading off to dinner at Babaganoush. Autumn's friends had told us about how great it was so we had to give it a try. For just around $10 US each we had a delicious three course meal. The food and the drinks were great and we would highly recommend it to anyone in Taganga.
Tomorrow we are off to Minca to do some hiking and sleep in an open mountain hut. Should be fun!