Our time in Bogota was spent at our friend's, Erik and Chelsia, home. They have two sweet girls, two dogs, and a cat. We loved having a fun, busy household to hang out at while we explored parts of Colombia. They will be joining us on our adventure along the Amazon River, but first we will hit the highlights of Bogota.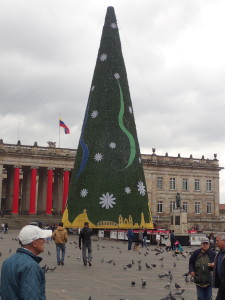 Bogota is a huge city with a population around 8 million. We gave ourselves a full day to see some of the main attractions. We started at the Museo Del Oro, which is the Gold Museum. The name says it all. Basically, it's a museum filled with gold artifacts from Colombia's history. This museum has a great set up and is very English friendly. We learned a lot about how they made the artifacts, what their purpose was, what they symbolized, etc. Fun to learn about and crazy to think about how inventive they were. The detail they were able to make as well as their ability to combine multiple metals to make all sorts of different tools and ceremonial items was amazing.
Afterwards we made a brief stop into the Iglesia de San Francisco. It had beautiful, gold statues/art/ornaments! But, there was a service going on, so we left fairly quickly. No pictures allowed.
Then, we stopped into the Museo de Botero. Botero is an interesting artist because he takes famous to semi-famous people and paints them as if they were 300 pounds!! Basically, there were a bunch of huge people all over the walls. FUN! The museum also had a few Picasso's and other artists as well.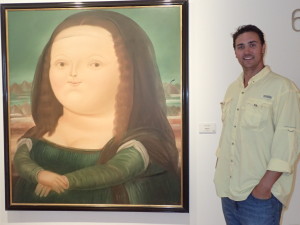 Our last stop was to the convention center where they had a "Christmas Market". There were 6 huge buildings with lots of unique, artisanal items for sale. Nothing was really Christmassy, so I think it's called that because it's around Christmas time and people buy their presents there? That was slightly disappointing because we wanted it to help get us in the spirit of the season. But, we did see Colombia's First Lady…we snapped a picture of her because everyone else was and then we asked Chelsia when we got back. Neither of us have ever seen a First Lady in person before!
Bogota is a big city. We still aren't really fans of big cities, but we gave it a chance. Up next: THE AMAZON!!!