Puno has an altitude of 12,554 feet and has the highest navigable body of water in the world, Lake Titicaca. The elevation took us a day or two to get used to. Thankfully, they have a magical Coca Leaf that gets rid of head aches and calms the tummy within 15 minutes. We were most successful when we chewed the leaves and put them in our lip like chewing tobacco. Attractive…not. But, who cares; it was a magical leaf that ensured I didn't feel like my skull was going to crack down the middle! Oh and it's the core component in cocaine, fortunately nothing addictive in the leaf itself just awesome medicine.
Truthfully, Puno isn't a great town with Lake Titicaca being the only real draw. We did a day tour that first brought us to Uros, the floating islands. The native people literally make islands from the reeds that grow all over the shallower parts of the lake. They also eat the reeds, which we got to try as well.. You peel back the base like a banana and then eat the core. It tasted pretty celery-like.
The natives enjoyed showing us their reed homes, their 8 inch tvs (powered by solar panels), stereos, and handmade crafts. We practiced our bartering skills and bought a colorful pillow case. Then, we went on the most deceiving boat ride ever. Ha! Let me explain: this ride was on one of their "homemade" reed boats that are powered by man (aka rowing). They were going to take us on a ride to the next island. So we boarded the small boat excited for our little adventure. The two natives board the boat last and get into their positions for rowing…the only problem being that a third native boarded a motor boat and pushed the reed boat from behind. The jokesters in the front were just pretending to row! Then, we proceeded to take a four minute ride in a circle around the water only to relocate to the "next island" exactly 10 feet from the island we started at. LOL, we were happy to give them the 7 bucks, but next time and we will just skip the ride.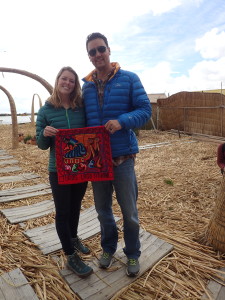 After our rather short time on the Uros, we jumped back on the ferry boat for a two hour ride to Taquile Island. Taquile is a beautiful, quiet island who's people live off the land and tourism. There wasn't much to do there, but enjoy the fantastic sights of Lake Titicaca and enjoy freshly caught trout. There are some handicraft shops (which our guide kept calling handi-craps) and many restaurants (all serving the two same menu options: trout and veggie omelet). We walked along the islands cliffs enjoying the warm sun and sights. Then, it was time for the 2.5 hour boat ride back to Puno.
At ten the following morning we left Puno for our VERY LAST bus ride!!! Of course we are excited because buses suck and I (Autumn) was terribly sick for the last two. The ride to Cusco, Peru was 7 hours and amazingly beautiful!!! Peru has such a dramatic landscape full of green, lush mountains with little villages built amongst them. I was super drugged up for this bus trip, but Drew poked me when the view couldn't be missed, so I didn't lose out even in my groggy state!
We can't wait to explore Cusco and visit Machu Picchu 🙂 After nearly a week of feeling somewhere between absolutely terrible and "only okay," we are especially excited to be back to good health!