While we were planning our journey to Machu Picchu in my head I thought of Cusco as just another city that didn't have much to offer. I was totally wrong. Cusco is a beautiful city of amazing history and culture in its own right. Cusco was the capital of the Quechua people (Incas) and was full of beautiful churches, castles and other wonderful architecture. We were fortunate to spend nearly 4 days in Cusco, not counting our 2 day jaunt to Aguas Caliente and Machu Picchu.
The city was very walk-able with plenty of good restaurants. Since it sits high in the mountains (11,100 ft) there were some incredible views of the surrounding mountain peaks.
This is also the first city that we did a little shopping in. As with everything in South America there is no such thing as a set price. EVERYTHING is negotiable. Whether it is trinkets, pictures, massages, or clothing you can get things for half (if not more) of what the store clerk says in the price. I have been working on dusting off my skills while Autumn is learning on the go. I keep reminding her that they wouldn't sell things to us if they weren't making money and happy about the price. Still I think she feels a little guilty when they start giving excuses of why they can't bring the price down more. All it takes is saying no and starting to walk away and the price comes down even further!
One woman in particular wanted us to come in here store and she took a liking to me. She was real grabby and giggly and decided that she was going to dress Autumn and me up in local attire to try to get us to buy some things. I'm not sure we are cut out to be Peruvian…
Although we did not partake, I bet we got asked if we wanted a massage about 20 times a day. Not overly enjoyable, but definitely not a big deal.
As one might guess if one reads history, the Peruvians don't have a lot of nice things to say about the Spanish. In addition to conquering and decimating the Inca population, the Spaniards destroyed the vast majority of the Inca palaces and holy places of the people. Apparently Cusco used to be covered in gold and silver decorations which included everything from palaces to streets. Not surprisingly the Spaniards plundered all of the gold and silver they could find.
One of the funny things about Peru is their infatuation with Alpacas and Llamas. You can buy alpaca gear in nearly every store and if you want there are ample opportunities to get your picture taken with a baby or juvenile alpaca right in downtown Cusco. Of course we had to hold the baby alpaca… who wouldn't?
We took a walking tour of Cusco similar to the tour we did in Valparaiso, Chile. It was a great way to see the city and get some insider knowledge that we would have totally glossed over or missed. One highlight was us getting to see some traditional Quechua/Inca music played by men dressed in Quechua attire.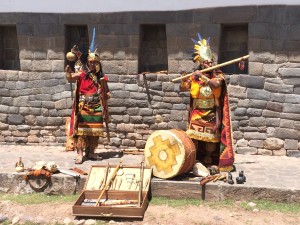 All in all we had a great time in Cusco and would recommend spending a few days here if you decide to go to Machu Picchu.