The trip to Chile
After our not so awesome time in San Rafael, we were definitely looking forward to a change of scenery which meant bidding adieu to Argentina, our home for the past 5 weeks. While we enjoyed our time in Argentina very much, we were incredibly excited about seeing a new country and getting back toward the ocean. From San Rafael we took a bus back to Mendoza and then purchased bus tickets for the next day which would take us straight to Valparaiso (a 7 hour bus ride). The bus ride turned out to be filled with fantastic views, an interesting border crossing, and then a twisty road down once we crossed into Chile. First, the views. After leaving Mendoza we quickly made our way into the mountains. I was a little bummed out because it was quite foggy at the start of our trip and I was sure I was missing out on some of the best sights I have ever seen. Actually, that was my FOMO (fear of missing out) kicking in. The fog lifted pretty quickly and we were treated to beautiful views. The road to Chile follows a river for quite a while and made for some great pictures.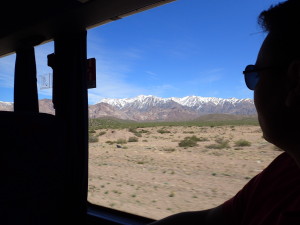 In addition to the mountain views and the occasional water fall, we also passed a few ski resorts that looked like they were done for the year. I am not a skier, but I'm sure those mountains get lots of visitors. From the step mountainsides to the skiing resorts and making our way towards the mountains,
There were also several towns on the way to the border that were built up in some beautiful high mountain valleys. I am becoming more aware of my affinity for horses on this trip and I was excited to see that much of the property surrounding the towns was horse ranches. It is incredibly beautiful to see horses silhouetted by snowcapped mountains.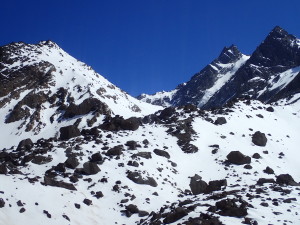 Where we arrived at the Chilean border we were treated to another great view. We didn't get to enjoy it for very long though as we were ushered off to clear customs leaving Argentina and then stepping 2 feet to our right to speak with Chilean customs. Not a bad process actually. One random occurrence is that while we were standing in line there was a lady next to us that apparently had issues with the altitude (10,300ft) because she just about passed out and had to be laid on the ground in the middle of the customs area. We saw here a little bit later and she seemed to have recovered, but she was pretty for a while there. After getting stamped out of Argentina and into Chile it was time for them to search our baggage for fruit, vegetables, and extra contraband. As one lady found out, the Chilean Border Patrol is SERIOUS about their rules. Given that agriculture is a huge part of Chile's economy they are very strict about what can come into the country. Have an apple in your bag? You will get fined. Banana? Fined. The baggage search was an interesting experience as well. Everyone on our bus was escorted into a room with a conveyor and xray machine as well as two long metal tables on which we were instructed to put our carry on gear and stand behind it. They then brought out their fruit and vege sniffing yellow lab to walk up and down the length of the tables (both below and on top) to make sure no one was smuggling anything. Unfortunately for one unsuspecting Argentinian Mother, the banana she was carry earned her a healthy fine and an earful from the border guard.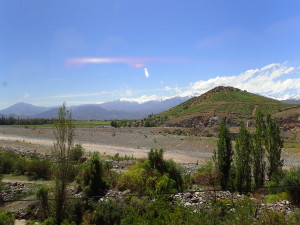 After leaving customs we took the very windy road down a few thousand feet as we started our decent into Chile. I was impressed by the amount of agriculture we encountered one we came out of the mountains. I guess Chile really does have a reason for being so hard on potential agriculture threats!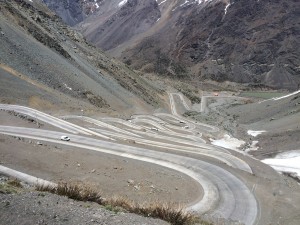 As I mentioned, we are very excited to be in Chile and can't wait to hit Valparaiso to do some more exploring.
Our Airbnb was located between the two cities of Valparaiso and Vina Del Mar. It was perfect because there was a city bus that boarded one block from our apartment that would bring us to either locations. The biggest benefit was the awesome view of the ocean from our balcony on the 19th floor! The biggest downfall was the damn barking dogs…seriously what's the deal with these guys. UGH!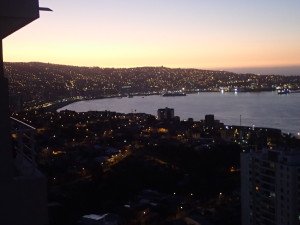 For the first two days we spent our time exploring Valparaiso; a crazy-colorful-busy, port town with lots of "graffiti". Valparaiso is known for its graffiti, or art as some like to call it. Displaying your artistic skills on a building is considered a crime here, unless you have a permission and/or are being paid by the owner. There are some seriously awesome murals and then there are the idiots who just sign their name in order to "claim" their spot or let people "know they were here". Many of the row houses are bright colors which add to the view nicely, but as with most of South America the buildings are all showing their age and wear.
A few interesting facts about Valparaiso for your reading pleasure
Valparaiso started its economic boom back in 1848 when the California gold rush began. Their high times lasted about 60 years until the Panama Cannel opened in 1914. Prior to this opening, the only way to get to California by boat was to go around Tierra Del Fuego on the southern tip of South America and then back up the Pacific side of the continents. Valparaiso was about exactly in the middle of that route making it an important port city.
During this time the day sailors used to paint their ships very bright colors so they could be seen easily when out at sea. Due to Valparaiso being such a heavily visited port, there was always discarded paint from the ships which the locals would "borrow" and use it to paint over their metal sheeted homes.
The sheet metal was also a byproduct of this port boom as sheet metal was used as "containers" to carry products from port to port. These were also borrowed and used to make people's homes.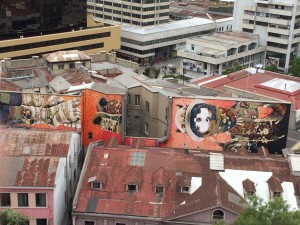 We went on a Tours for Tips walking tour of Valparaiso that lasted about 3 hours. It was an incredible way to get to know and appreciate the CRAZY quirks of Valparaiso. Learning the history and the reasons behind a city can really open your eyes to the true beauty of a place. As mentioned above, Valparaiso used to be a booming port that all seafarers had to pass through….until the Panama Canal opened. Now much of Valpo, as the locals call it, is in disrepair, but has the hidden beauty that you can picture from years past. We learned about the currently famous graffiti artists of the city, ate delicious Alfajores (caramel filled cookies) & Salmon filled Empanadas, rode the remaining ascensores (elevators or funiculars) up the "cerros" or hills, and had all of our questions answered by a local when on this tour.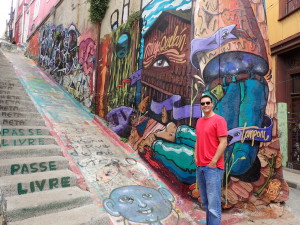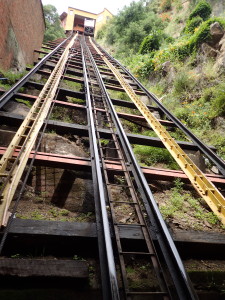 The next three days were dedicated to Vina Del Mar; local Chilean/Argentinian vacation spot. Here we found lots of palm trees, beaches, ice cream shops, and CONSTRUCTION! Being from Minnesota we understand the necessity of construction, but dislike it nonetheless. Due to the fact that we are traveling before their busy season (Dec-Feb) we have been witnessing a lot of construction, but haven't let it get us down! Vina Del Mar is where we sat by the beach, ate delicious Ceviche (raw fish in a delicious citrusy-spicy juice), toured a castle, and took a long, unexpected bus ride to the middle of nowhere after we missed out bus stop (sometimes it's best not to get off if you don't know where you are :)). There was also a nice hotel with a casino at which I won some money and decided to take my lovely wife out for a budget buster of a meal. Totally worth it.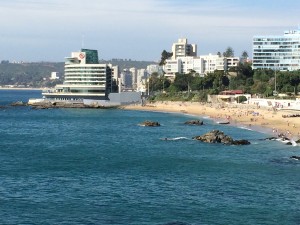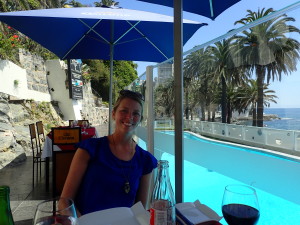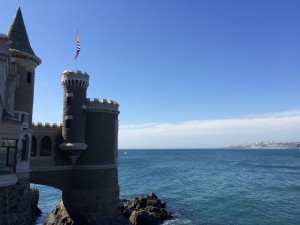 After a good time in Valpo and Vina, we bused to Santiago to spend a little time before we jumped on a flight to Lima, Peru. The bus ride was filled with bright, Spring flowers & Pisco Grape Vineyards (the brandy-like liquor from this area). Considering some of the long bus rides we have already experienced, the 3.5 hour bus ride was a breeze. Upon arrival we grabbed our bags and started walking to the hostel at which we planned on staying. We thought we knew where we were going, but since our cell phones didn't work, we ended up not finding the place. No worries, we found a nice hostel which had rooms available. Since we didn't have a ton of time in Santiago, we grabbed a late lunch/dinner at a PACKED Chinese restaurant (not that good) and then retreat back to the hostel to get some sleep before our 6:25 am flight. Turns out that 3:45am is really early when you see it from the morning side.